Competition/Clinic
Lehigh Valley Grand Prix provides the ultimate competitive go kart racing experience by offering adult and junior go kart league racing.  Call 1.610.432.RACE for details!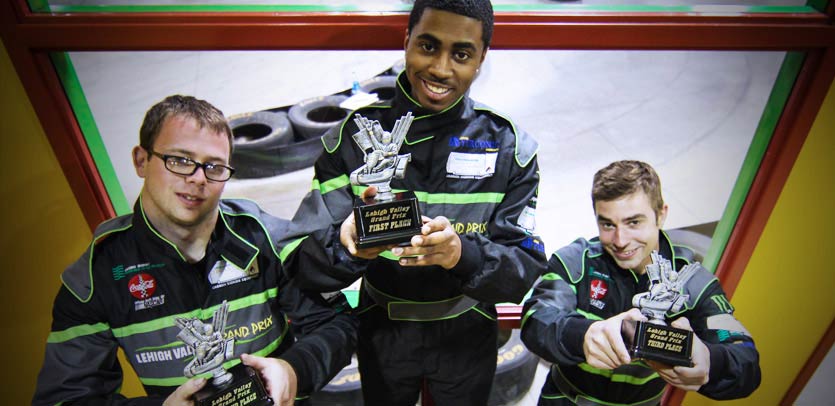 Racing Leagues/ Pop Up Comps
Racing Leagues are a fun and competitive opportunity to race at Lehigh Valley Grand Prix.  Unlike, standard races, the racing leagues are based upon position not best laps.  The Junior League is held on Saturday mornings and the Adult League is held on Tuesday evenings.  Junior Leagues are available to ages 8 to 17.
Pop Up Comps are a new program launched in 2018.  Random dates will be announced randomly throughout the year.  Be sure to follow our facebook page to keep up to date on the happenings!
LVGP will also be offering driving clinics for those interested in sharpening their skills prior to the league. E-mail competition@lehighvalleygrandprix.com for more information about competitive go kart racing.
COVID UPDATE JR LEAGUES:  
LVGP is gearing up for its fall and winter Junior Racing Leagues!  Leagues are a great way to enjoy competitive racing at the facility.  Drivers will be split into groups based on skill level after week one.  Each week the drivers will compete in a 8 minute qualifier followed by a 20 minute position race.  The fastest qualifying driver will start up front for the feature.  Scoring will be based upon placement in the feature.
The team is confident we can accomplish physical distancing during the program.  The drivers will have assigned time slots each week to limit the number of guests in the facility.  We ask that you please keep the number of spectators to a minimum to enable distancing in the facility.  The league will start at 9am each week.  Your scheduled racing time will be sent the week prior to 9/19.
Drivers may be ages 8 to 17.  To qualify for adult karts the drivers must hit a lap time of sub 35 seconds on the current track or already have qualified as well as be 54 inches in height.
League Schedule
Juniors

Fall 9/19, 9/26, 10/3, 10/10, 10/17, 10/24
Winter 11/7, 11/14, 11/21, 12/5, 12/12, 12/19

Adult Pop Up
---
 9th Annual LVGP500
The LVGP500 is a 500 lap go kart endurance race held the morning of the Daytona 500. Teams may consist of 1-5 drivers. The team that completes 500 laps first wins! There will be two classes of drivers for the competition to make it fun for everyone. After the race there will be an awards ceremony and Daytona 500 Viewing party at Octane, the new restaurant and bar at Lehigh Valley Grand Prix. If you can't make the 500 lap race, you can still come to the party!
Cost per team is $500.
A 50% deposit is required to hold your spot.
Date: February 16, 2020
Contact the track at 1.610.432.RACE to register! For specific rules and schedule contact sales@lehighvalleygrandprix.com.
---
7th Annual Turkey Bowl
This November 10th, Lehigh Valley Grand Prix will host its 7th Annual Turkey Bowl! The event is a 4 hour endurance race with the goal of raising food and monetary donations for those in need for the holiday season. The race will end with a special awards ceremony that will include food and refreshments.
Cost: $500 per team, includes food and refreshments at after party. 50% deposit required.
Donate canned good items for charity, requesting 10 items per team!
Date: November 10th, 2019- SOLD OUT!
This event is going to fill up fast so do not hesitate to contact Ryan Suchon at 1.610.432.RACE or email sales@lehighvalleygrandprix.com.
---
Junior Driving Clinic
Is your child a motor head?  Does your child enjoy competition? The Summer driving clinic at Lehigh Valley Grand Prix is the perfect opportunity to fuel their desire to go fast and have fun.  The program is designed to teach kids the basics of racing in a fun and competitive environment.  Goals will be set on an individual basis at day 1.  It is our goal to help the kids achieve those goals and to become better racers!
Programming
Learning hand & body position
Perfecting the line
Techniques for passing
Techniques for breaking
Driver changes
Sportsmanship
Date: TBD
Time:  12pm to 4pm
Cost: $250 (includes lunch/ages 8 to 15)
This program does sell out quickly.  For more information CLICK HERE.
Junior Leagues

| Race Hours | |
| --- | --- |
| Monday-Thursday | 2pm-10pm |
| Friday | 2pm-10pm |
| Saturday | 12pm-10pm |
| Sunday | 12pm-7pm |

| Octane Hours | |
| --- | --- |
| Monday | 5pm-10pm |
| Tuesday-Wednesday | Closed |
| Thursday | 5pm-10pm |
| Friday | 5pm-10pm |
| Saturday | 12pm-10pm |
| Sunday | 12pm-7pm |

Axe Throwing Hours
Monday
5pm-10pm
Tuesday & Wednesday
Closed
Thursday
5pm-10pm
Friday
5pm-10pm
Saturday
12pm-10pm
Sunday
12pm-7pm
View Our Event Calendar