Corporate Team Building
Get Your Team Racing!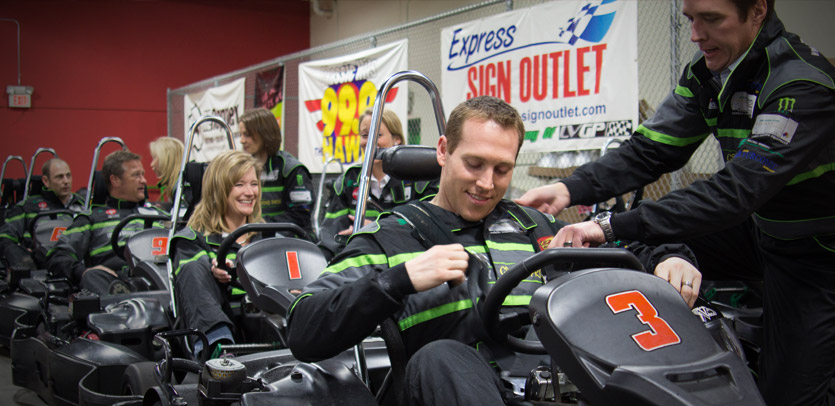 The Lehigh Valley Grand Prix offers a fun, high energy, and effective experience for your next corporate team building event. It is a common misconception that racing is an individual sport.  Team racing is an exciting variation on indoor kart racing that challenges team members to demonstrate superior strategy, preparation, and teamwork to enable them to deliver at a high level.  The corporate team building programs established at Lehigh Valley Grand Prix encourage teams to work together to assign roles to participants, strategize and execute on that strategy in a fun and highly competitive racing environment.
The skills learned and executed working in a team environment at LVGP can be carried over into the working environment.  Teams develop stronger lines of communication, leadership, and strategy at our business team building events, and these skills will help them become more successful working in a group environment.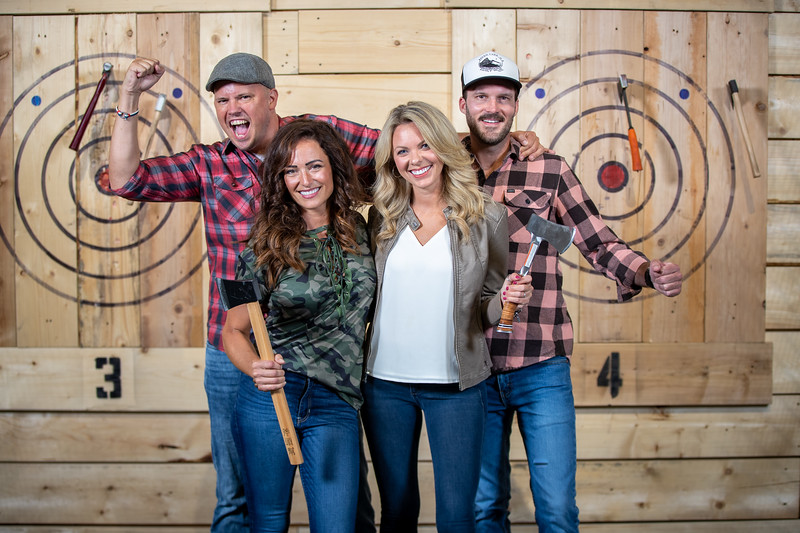 After racing, enjoy food and beverage from Octane Adrenaline bar while your team laughs and competes in the Axe Throwing Arena!  Axe throwing can be booked per person or rent the entire arena out for your group!
Team Endurance Race
At LVGP we have developed the Team Endurance Race, a special program that provides a high energy explosive experience for your team building events ideal for groups of 15 or more.  Team Endurance puts your employee's communication, leadership and execution to the test.  Your group is divided into teams who are tasked with performing an endurance style race.  The fastest drivers on the track are not necessarily the winners.  Teams are given rules they must follow.  Teamwork, preparation and execution establish the victors in this format.  Help your staff break down barriers and build trusting relationships to achieve victory on and off the race track!
Employee Rewards
What better way to reward your employees than with a medal? A day at Lehigh Valley Grand Prix is a brilliant solution to show your staff recognition and appreciation. The racing environment reinforces the essential skills for a winning team and develops tighter bonds with your employees.
Our state of the art facility provides a relaxed, comfortable indoor arena and the venue is fun for spectators and participants alike. The team racing atmosphere fosters teamwork and creates bonds of friendship for employees and their spouses.
Benefits of an LVGP Corporate Team Building Event
Boost Team Energy
Improve Efficiency and Productivity
Facilitate Communication
Increase Collaboration and camaraderie
Develop Leadership Skills
Setting Up Your Corporate Team Building Event
From the starting line to the finish line, Lehigh Valley Grand Prix makes corporate team building activities fun and easy to plan. We offer catering and a corporate happy hour to round out a fun day on the track.  Below is a list of details we typically ask for.
Number of guests you wish to entertain
Budget you wish to maintain for the event
When you would like the event to take place
Food and drink menus desired
Take advantage of your FREE RACE and TOUR OF OUR FACILITY to get a taste of the Adrenaline Rush that we can serve to your Team!!  Lehigh Valley Grand Prix proudly serves the Lehigh Valley, Philadelphia and New Jersey areas.  For more information on our corporate team building event packages please contact Ryan Suchon at 1.610.432.7223 or by email: sales@lehighvalleygrandprix.com.
Go!Axe

| Race Hours | |
| --- | --- |
| Monday | 2pm-10pm |
| Tuesday-Thursday | 2pm-9pm |
| Friday | 2pm-10pm |
| Saturday | 12pm-10pm |
| Sunday | 12pm-7pm |

| Octane Hours | |
| --- | --- |
| Monday | 5pm-10pm |
| Tuesday-Thursday | 5pm-9pm |
| Friday | 4pm to 10pm |
| Saturday | 12pm to 10pm |
| Sunday | 12pm to 7pm |

Axe Throwing Hours
Monday, Tuesday, Wednesday & Thursday
Available for Private Events
Friday
4pm to 10pm
Saturday
2pm to 10pm
Sunday
12pm to 7pm
View Our Event Calendar