Fundraisers
Let's Raise Some Money!
You can raise money for a good cause, and we can help! Thinking about another charity walk or golf outing to raise money? Help your organization stand out of the crowd. Fundraisers at Lehigh Valley Grand Prix can help you raise money with racing! LVGP is always looking to help a good cause.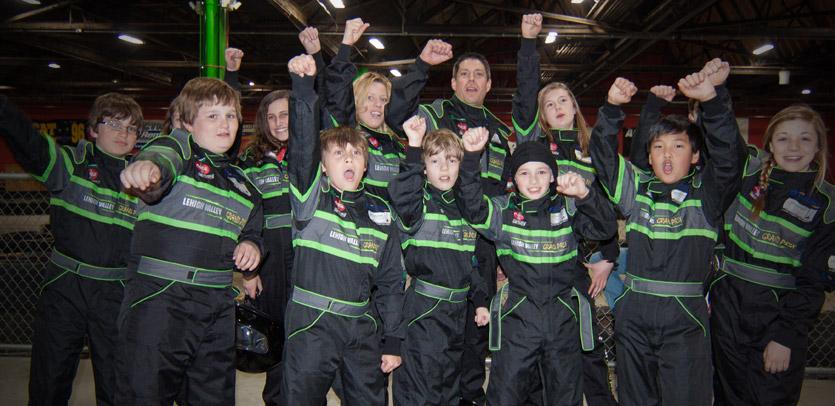 We play an active role in fundraising ventures for organizations throughout Lehigh Valley. Raising money for a charity or organization is a thrilling and important part of what we love to do. Big or small, whatever your goals are, we have a plan that will help you succeed.
We have some great products that can really help raise money for your cause.
Customer Testimonials
Thank you so much for the first "Race for Autism" event that took place on Sunday, April 5,2009. We really appreciate all the efforts everyone at Lehigh Valley Grand Prix did to make the event so successful. We did not know what to expect, and raising over $3,500 was amazing!

I was so impressed with the facility and staff at your organization. I knew it was in a converted warehouse, but I did not expect it to be so bright, open, and airy. Obviously, a great deal of thought went into the design of the site and it was really nice. It was great to be able to view the racing close to the track, but also go inside the party room to take a break from the noise.

Everyone there seemed to be having a really good time.  I would recommend Lehigh Valley Grand Prix wholeheartedly to other charities and organizations and might have to look into creating my own team for next year's race. I look forward to working with you again in the future. Please pass on my appreciation to everyone who helped with our event.

Sheri Miltenberger, President of Autism Society of America

Thank you again!
LVGP proved to be the perfect venue for our annual benefit event. They were extremely supportive & accommodating, which allowed us to focus on our cause and our guests. The smile-filled faces and money we raised far exceeded our expectations… everyone is looking forward to next year already!!

Darci Niszczak, Beyond Labels and Limitations
Our event at LVGP was a complete success and proved to be incredibly simple to organize and run. The LVGP staff was wonderful to work with in all stages of the event. We are already planning our fund raising event for next year! Thank you LVGP! Tackle ALS Foundation Inc.

Jarrett Seng, creative director – Raceseng: Motorsports Performance and Lifestyle
For more information about fundraisers with LVGP, please contact Ryan Suchon at 1.610.432.7223  or by email at sales@lehighvalleygrandprix.com.
Corporate Team Building

| Race Hours | |
| --- | --- |
| Monday | 2pm-10pm |
| Tuesday-Thursday | 2pm-9pm |
| Friday | 2pm-10pm |
| Saturday | 12pm-10pm |
| Sunday | 12pm-7pm |

| Octane Hours | |
| --- | --- |
| Monday | 5pm-10pm |
| Tuesday-Thursday | 5pm-9pm |
| Friday | 4pm to 10pm |
| Saturday | 12pm to 10pm |
| Sunday | 12pm to 7pm |

Axe Throwing Hours
Monday, Tuesday, Wednesday & Thursday
Available for Private Events
Friday
4pm to 10pm
Saturday
2pm to 10pm
Sunday
12pm to 7pm
View Our Event Calendar