Karts / Track
Our ¼ mile indoor go kart track design is a road course with 11 turns. Customers race on a concrete surface, around a barrier system that was constructed with over 1,300 Goodyear tires from a single NASCAR race at Chicagoland in Chicago.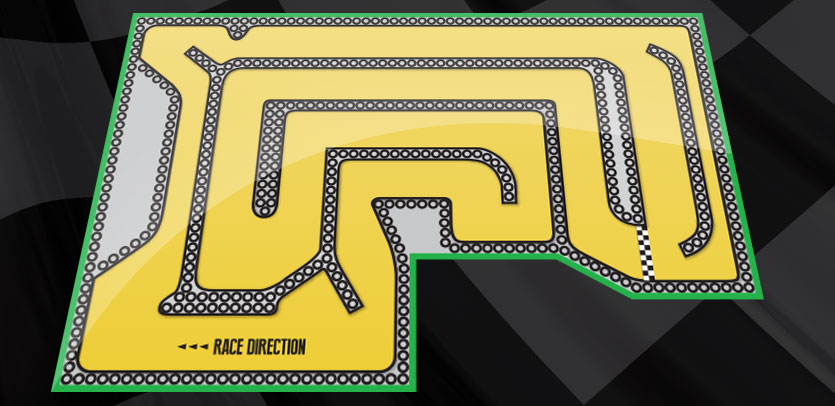 Each lap at LVGP is timed to the thousandth of a second. Our go karts are fitted with transponders that track lap times and post them on a massive projection screen that hangs above the track area.
Rules:
1. No bumping of the karts is allowed!!
2. Youth drivers (8-17) must have parental consent.
3. A minimum height of 48" is required for youth drivers and 56" for adults.
4. All racers must sign a waiver and release of liability form.
5. All racers must attend a safety briefing on rules and regulations.
6. Helmet, neck brace, seatbelt, and closed toe shoes are mandatory while racing. No high heels!
7. Anyone under the influence of drugs or alcohol will not race. There is also No Smoking in the facility.
8. Long hair must be tucked into helmet.
9. Keep both hands on the wheel at all times.
10. Pay attention to all track officials and warning flags.
11. Avoid bumping into the barriers or anything else on the track.
12. Do not stop on the track.
Flags:

Calendar

| Race Hours | |
| --- | --- |
| Monday | 2pm-10pm |
| Tuesday-Thursday | 2pm-9pm |
| Friday | 2pm-10pm |
| Saturday | 12pm-10pm |
| Sunday | 12pm-7pm |

| Octane Hours | |
| --- | --- |
| Monday | 5pm-10pm |
| Tuesday-Thursday | 5pm-9pm |
| Friday | 4pm to 10pm |
| Saturday | 12pm to 10pm |
| Sunday | 12pm to 7pm |

Axe Throwing Hours
Monday, Tuesday, Wednesday & Thursday
Available for Private Events
Friday
4pm to 10pm
Saturday
2pm to 10pm
Sunday
12pm to 7pm
View Our Event Calendar