Pricing / Specials
Go Kart Pricing at LVGP.  Junior Racers and Adult Racers race in separate heats.  Heats are alternated based upon customers at the facility.  Junior Racers are ages 8 to 14 and Adult Racers are ages 15 & up.  All minors (under 18 years of age) must have a parent or guardian present to sign the waiver. Please give us a call at 1.610.432.RACE if you have any questions about pricing.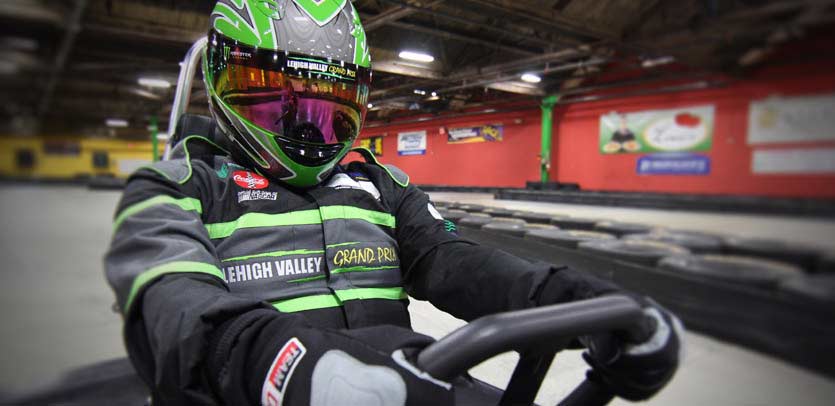 Pricing
LVGP Race License $8
Valid for 1 Year & Required to Race
FREE RACE on Birthday Month
Use of Helmet and Headsock
Online Scoring
Race Prices- 8 minute races
**Races are not transferrable**
| | |
| --- | --- |
| 1 Race | $22 |
| 3 Races | $54 ($18/race) |
| 4 Races | $64 ($16/race) |
3% fee added to all Credit Card transactions
---
 Specials
Monday Madness:
Unlimited Racing from 5:30pm-10pm every Monday $60.
Adult racers only.
Limited Availability
Tuesday
Kids Unlimited Racing from 4pm to 9pm for $55
Tuesday through Thursday:
Junior members get buy 2 get 2 free races all day.
Adrenaline Rush Thursdays:
---
Racing
Junior Racers: 8yrs of age.  Minimum Height 48″
Adult Racers: 15 yrs of age.  Minimum Height 56″
Juniors and Adults do not race in the same races
GO!AXE
All participants must be a minimum 18yrs of age.
Please refer to GO!AXE Page for details.
Please read these Terms & Conditions first:
All racers must be present at their scheduled checkin time.
All Racers must have the $8 Annual Race License. A parent/guardian must be present with all racers under 18 yrs of age to sign the waiver.
Reservations are available for Friday, Saturday and Sundays
It is recommended to book races with at least a 20 minute break in between races.
Online reservations may be canceled up to 48hrs prior to the reservation.  Refunds will not be granted for missed reservations or reservations not canceled within 48hrs.
Race bookings may be rescheduled or canceled up to 48 hours in advance. No refunds or credits will be offered at LVGP for discounts/coupons or rescheduled/canceled bookings within 48 hours.
---
Requirements
All drivers must sign a liability waiver and be ready to race with closed-toe shoes. Drivers under the age of 18 must have a parent or guardian sign their waiver. 
Birthday Parties

| Race Hours | |
| --- | --- |
| Monday | 2pm-10pm |
| Tuesday-Thursday | 2pm-9pm |
| Friday | 2pm-10pm |
| Saturday | 12pm-10pm |
| Sunday | 12pm-7pm |

| Octane Hours | |
| --- | --- |
| Monday | 5pm-10pm |
| Tuesday-Thursday | 5pm-9pm |
| Friday | 4pm to 10pm |
| Saturday | 12pm to 10pm |
| Sunday | 12pm to 7pm |

Axe Throwing Hours
Monday, Tuesday, Wednesday & Thursday
Available for Private Events
Friday
4pm to 10pm
Saturday
2pm to 10pm
Sunday
12pm to 7pm
View Our Event Calendar