Back to Blog
October 24, 2013
Kyle Lick wins Fall League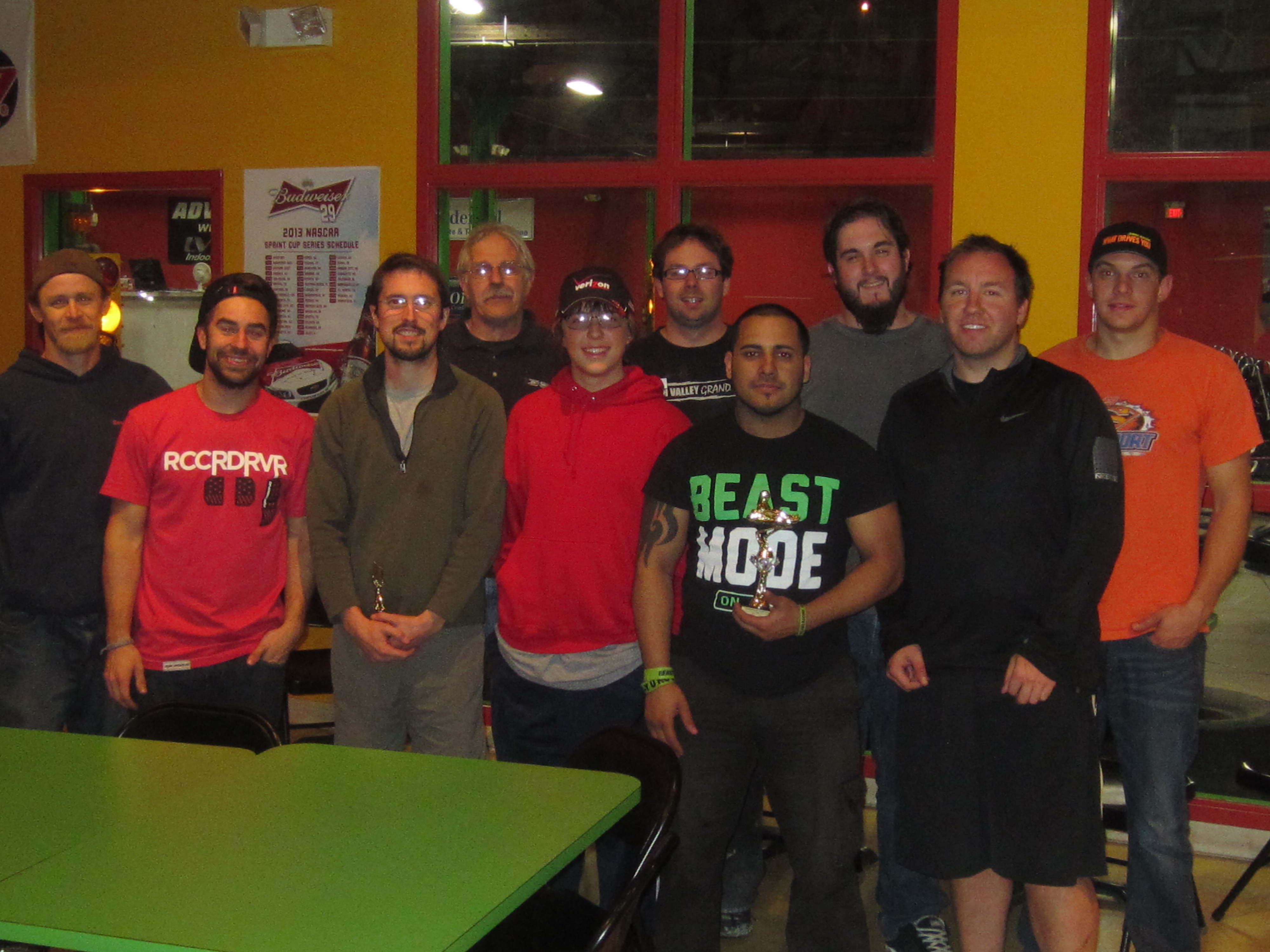 Congratulations to Kyle Lick on winning the Fall League at Lehigh Valley Grand Prix!!  The league series was extremely competitive and it was fun to see old and new faces collide for the latest series.  One of the most exciting aspects of leagues is  witnessing new participants significantly improving their lap times and position racing skills from week 1 to week 4.  Whether you finished at the top of the board or the bottom it is all about getting out of the real world and onto the track for some fun!!  We hope that the team at LVGP provided a great experience for all!!
The league format was again tweaked this fall to keep the participants on their toes and to provide new energy each night.  The first 2 weeks consisted of 3 features that were each 20 minutes in length.  Drivers chose their karts and position based on how they qualified.
Week 3 provided 2 features of 50 laps each.  Week 4 was 2 features of 30 laps followed up by a 20 min race.  In week 3 & 4 drivers selected their karts through a poker chip random draw.  Halfway through each feature a chip was then selected to determine how to invert the field.  If you brain is spinning don't worry…..it may be a lot to absorb but bottom line shaking it up always makes for a fun time!!
Here is a break down of the final results:
1.  Kyle Lick 11,004 pts. 2.  Jason Frankenfield 9,616 pts  3.  Dylan Castro 8,441 pts.  4.  Dan Bouc 7,086 pts.  5.  Neil Ross 6,308 pts.  6.  Matt Heffelfinger 5,623.  7.  Jon Nickel 5,228 pts.  8.  Hunter Stewart 5,185 pts.  9.  Victor Neher 4,209 pts.  10.  Rudy Neher 4,709 pts.  11.  Tom Ballaron 3,970 pts.  12.  Quentin Gipson 1,372 pts.  12.  Alex Mack 1,043 pts.
Social Events

| Race Hours | |
| --- | --- |
| Monday-Thursday | 2pm-10pm |
| Friday | 2pm-9pm |
| Saturday | 12pm-9pm |
| Sunday | 12pm-7pm |

| Octane Hours | |
| --- | --- |
| Monday | 5pm-10pm |
| Tuesday-Wednesday | Closed |
| Thursday | Closed |
| Friday | 4pm to 9pm |
| Saturday | 12pm to 7pm |
| Sunday | 12pm to 7pm |

Axe Throwing Hours
Monday, Tuesday, Wednesday & Thursday
Closed
Friday
4pm to 9pm
Saturday
4pm to 9pm
Sunday
12pm to 7pm
View Our Event Calendar