Back to Blog
September 11, 2017
Bachelor Parties Around The World – Lehigh Valley Grand Prix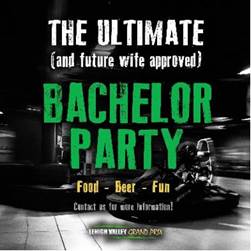 The Ultimate Bachelor Party
The best bachelor parties around the world include food, beer, and tons of fun. The Bachelor Party is known worldwide as the last night of freedom before a man gets married, usually planned by the best man. It is the duty of the best man to make this night as fun as possible for the groom. At LVGP, we offer bachelor party packages that are guaranteed keep the groom out of the dog house.
Bachelor Parties around the World
Different countries have different traditions when it comes to celebrating the grooms last night of freedom. In Germany, they celebrate a "farewell to bachelorhood" by bar hopping in a limousine or party bus and wearing matching shirts. In France, the bachelor party is known as "the burial of the life as a boy" and consists of the same events as bachelor parties in the United States. In The United Kingdom, it is common for the bachelor party to last multiple days, usually an entire weekend often referred to as a "stag weekend". Las Vegas is a popular bachelor party destination in the United States. Vegas offers gambling, day time pool parties, and a wild night life. For a fast paced bachelor party on the East Coast, the Lehigh Valley Grand Prix offers food, drinks, and fun!
Food and Fun fit for a Bachelor
Turn stag night into race night as LVGP! Here at Lehigh Valley Grand Prix, we offer beer, signature cocktails, and delicious drinks at Octane Adrenaline Bar. LVGP is an indoor go kart track which allows you to party rain or shine so it won't rain on your parade. We offer several different packages for bachelor parties, including one that ends with an official awards ceremony and another that comes with a free alcoholic beverage for the groom. Bachelor party packages start at $50 per guest with a minimum of eight people to a group. We can accommodate groups of all sizes! If you are interested in one of our party packages, we suggest you to book two to four weeks in advance in order to provide the best experience for you and your group.
To schedule bachelor parties at Lehigh Valley Grand Prix contact Ryan Suchon by phone at 1.610.432.7223 or by email at sales@lehighvalleygrandprix.com.
Social Events

| Race Hours | |
| --- | --- |
| Monday | 2pm-10pm |
| Tuesday-Thursday | 2pm-9pm |
| Friday | 2pm-10pm |
| Saturday | 12pm-10pm |
| Sunday | 12pm-7pm |

| Octane Hours | |
| --- | --- |
| Monday | 5pm-10pm |
| Tuesday-Thursday | 5pm-9pm |
| Friday | 4pm to 10pm |
| Saturday | 12pm to 10pm |
| Sunday | 12pm to 7pm |

Axe Throwing Hours
Monday, Tuesday, Wednesday & Thursday
Available for Private Events
Friday
4pm to 10pm
Saturday
2pm to 10pm
Sunday
12pm to 7pm
View Our Event Calendar