Back to Blog
August 5, 2019
Work Parties at Lehigh Valley Grand Prix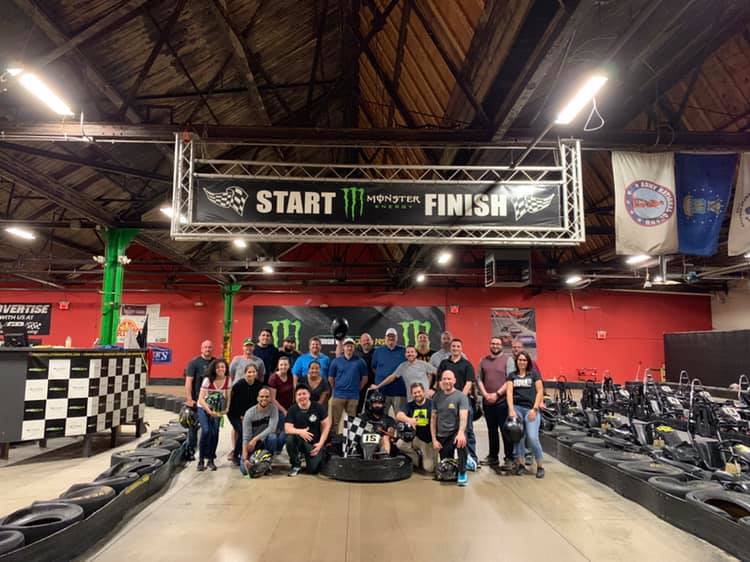 According to the U.S. Department of Labor Statistics, 85% of companies that spend 1% or more of payroll on employee recognition see a positive impact on engagement. Throwing a work party is a popular way for companies to show their employees recognition and appreciation. It also gives the team a chance to connect on a different level than they can in the daily grind. Work parties at Lehigh Valley Grand Prix take those connections to a whole new level.
Planning a work party can be difficult when staff is tired of the same old, boring dinners. Switching up the atmosphere in an environment where everyone can be casual and have fun is a great way to show your employees appreciation. Parties at LVGP can be customized to take many forms.
Work Parties for Team Building
If you are looking to host a party for your company for team building, we can set you up with a party structured around exactly that. WE developed the Team Endurance Race, a special program that puts your employee's communication, leadership and execution to the test. Your group is given rules they must follow and divided into teams who are tasked with performing an endurance style race. Victors are established with teamwork, preparation and execution, so the fastest drivers on the track are not necessarily the winners. The Team Endurance Race helps your staff break down barriers and build trusting relationships to achieve victory, on and off the racetrack.
Work Parties for Fun
Team building not the kind of party you're looking to plan? No problem. We have private party rooms where you can throw a relaxed gathering for your company that is nothing short of straight up fun. Members of your team can choose when and how often they want to race. If members don't want to race, they can enjoy bowling at our mini bowling alley, or they can hang out and fill up on yummy food and tasty drinks from our Octane Adrenaline Bar. Catering is also available, you can view the menu by clicking here.
Work Parties for Meeting, Then Fun
At LVGP, we understand that you need to work hard to play hard. We have a room that is perfectly suitable to have a meeting before diving into the fun. Our facility is available to be rented for your company only, or you may rent the track for private races.
Our team will work with you to plan a party that meets your needs. Show employees recognition and appreciation with a fun, high-octane work party at Lehigh Valley Grand Prix. Click here for more information about work parties!
#WorkParties #LehighValleyGrandPrix #LVGP
Social Events

| Race Hours | |
| --- | --- |
| Monday-Thursday | 2pm-10pm |
| Friday | 2pm-9pm |
| Saturday | 12pm-9pm |
| Sunday | 12pm-7pm |

| Octane Hours | |
| --- | --- |
| Monday | 5pm-10pm |
| Tuesday-Wednesday | Closed |
| Thursday | Closed |
| Friday | 4pm to 9pm |
| Saturday | 12pm to 7pm |
| Sunday | 12pm to 7pm |

Axe Throwing Hours
Monday, Tuesday, Wednesday & Thursday
Closed
Friday
4pm to 9pm
Saturday
4pm to 9pm
Sunday
12pm to 7pm
View Our Event Calendar