Back to Blog
March 6, 2012
Winter Jr Leagues Finale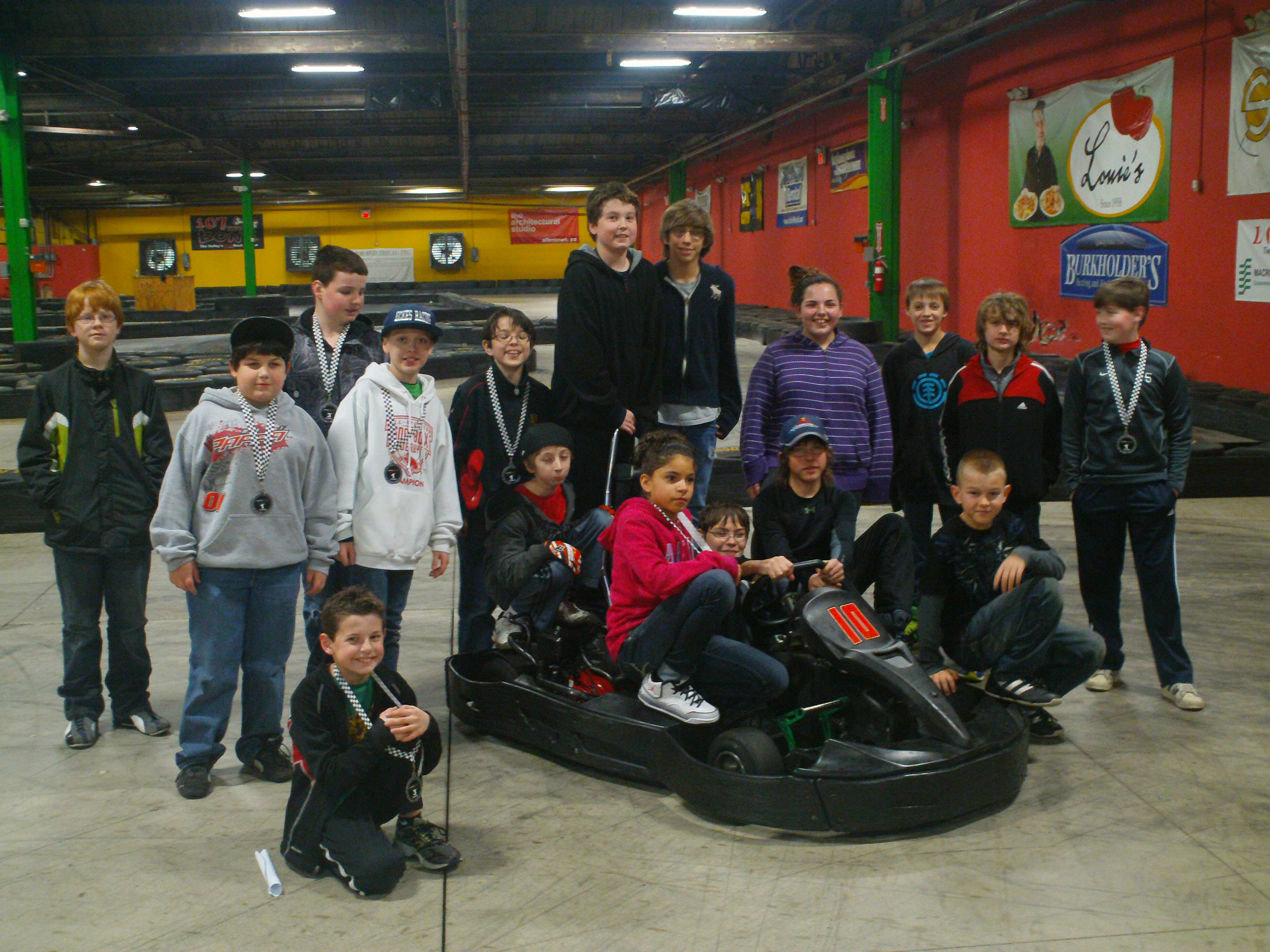 The Jr Leagues at Lehigh Valley Grand Prix have become a showcase for some of the best Jr drivers in indoor karting.  Each week it is truly amazing to watch these kids race in 20 minute, wheel to wheel racing, features!  The program attracts kids from all different racing experience levels and provides a great racing experience for everyone!
"We have kids that race sling shots, quarter midgets and outdoor go karts that use the league as a way to keep their skills sharp in the off-season.  We also have participants that have never raced or driven a vehicle in their life!  It is exciting to watch them all improve over the 8 week program," said Kyle Lick, assistant competition director.
The winter league had 3 classes for the competition.  The league started in mid January and ran until March 3rd.  Each week for 8 weeks the participants would race in a 5 minute qualifier followed by a 20 minute feature.  The fastest qualifier would start on the pole position for the feature race.  The Spring League will begin on April 14th and run for 8 consecutive weeks.  The cost is $175.
We would like to give a big congratulations to all of the Winter League participants and parents and we hope to see you in the Spring league!!  Here are the final results from the Winter League.
Class A
1. Zack Dunn "Z Racer" 5909 pts, 2.  Joey Brey "JoetheTraitor" 5609 pts, 3.  Kalynn Strobel "KalynnTheMadness" 5206, 4.  Noah Kreitzer "Sanitator" 4768 pts,  5.  Hunter Stewart "Flaming Bull" 4631 pts, 6.  Jase Smith "JPSRacer24" 4528 pts, 7. John Coranati "Vito" 4217 pts.
Class B
1.  Brycen Jasionowski "BMAN" 5916 pts, 2.  Kiel Cochran 5785 pts, 3.  Josh Patterson "Bullet Bill" 5354 pts, 4.  Brandon Gehris "I Like Chicken" 5302 pts, 5.  Spencer Patterson "Spencer" 5080pts,  6.  Kimberlee Taylor "Kimbo" 3687 pts.
Class C
1.  Christian Eckes "Christian" & Alex McCollum "WildChild" 6252 pts, 3.  David Rush "David" 5194 pts, 4.  Chandler Gavin "Chandler" 5171 pts, , 5.  Nicholas Winton "Terminator" 4518 pts, 6.  Alex Roan "Alex" 4080 pts.
Social Events

| Race Hours | |
| --- | --- |
| Monday-Thursday | 2pm-10pm |
| Friday | 2pm-9pm |
| Saturday | 12pm-9pm |
| Sunday | 12pm-7pm |

| Octane Hours | |
| --- | --- |
| Monday | 5pm-10pm |
| Tuesday-Wednesday | Closed |
| Thursday | Closed |
| Friday | 4pm to 9pm |
| Saturday | 12pm to 7pm |
| Sunday | 12pm to 7pm |

Axe Throwing Hours
Monday, Tuesday, Wednesday & Thursday
Closed
Friday
4pm to 9pm
Saturday
4pm to 9pm
Sunday
12pm to 7pm
View Our Event Calendar