Back to Blog
March 4, 2020
Winter Activities in the Lehigh Valley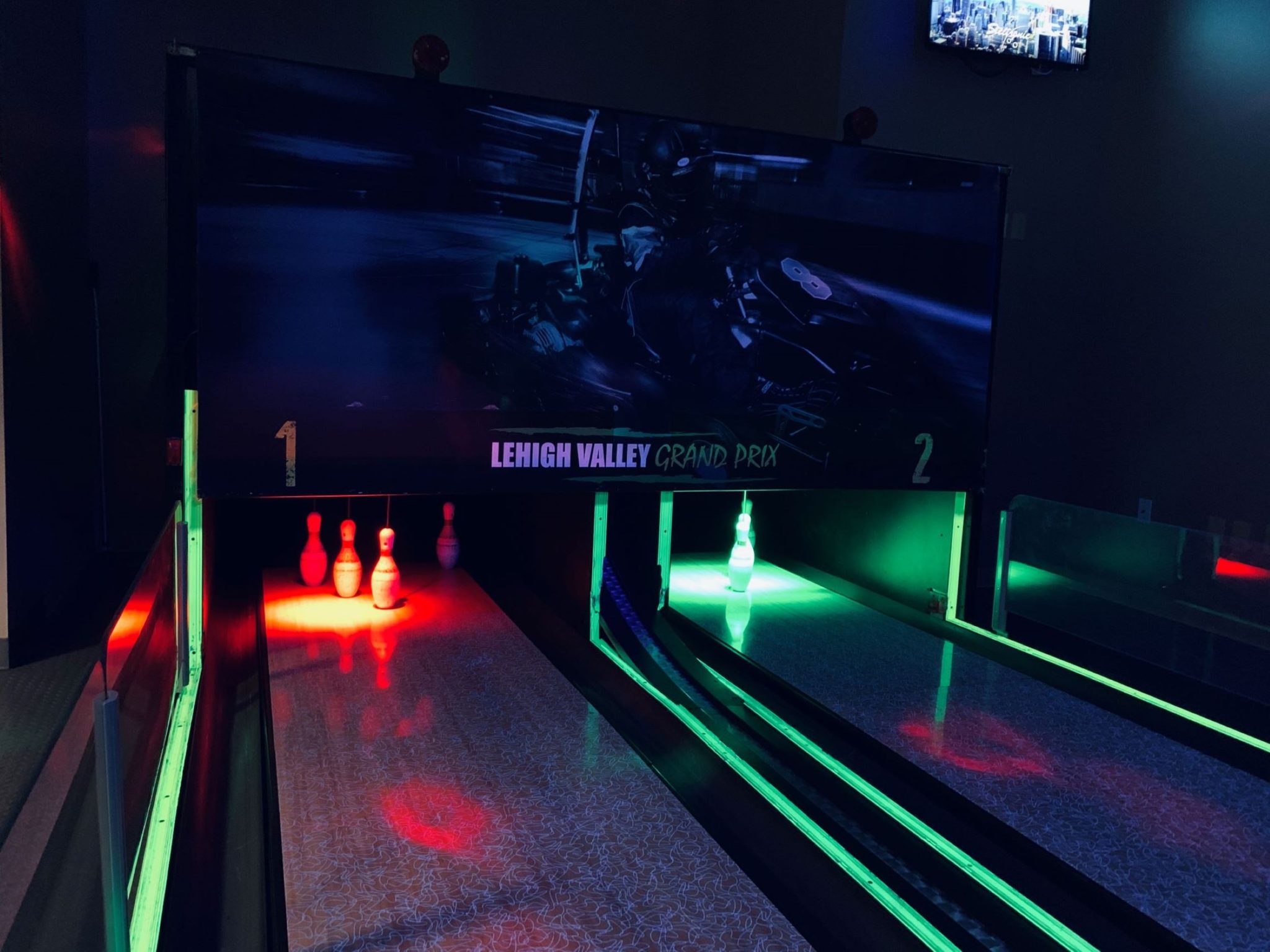 Feeling a little cramped this winter? Come get the lead out and check out the tons of fun that awaits you at Lehigh Valley Grand Prix. We've got the best winter activities in the Lehigh Valley waiting for you and guarantee for a high-energy, unique experience with your family and friends that beats being stuck indoors anytime!
Racing
When the weather and road conditions are questionable out there, we have the perfect high-energy, safe winter activity ready for you indoors – and we encourage you to drive fast! Remember, when you visit that our track is ventilated, so the temperature on the track is similar to the temperature outside.  Given that it is wintertime, it will be a bit cooler. Remember to dress appropriately and for your comfort.  Please wear sneakers or boots as no open-toed shoes or heels are permitted when racing. Did you know we also have daily specials?  Be sure to check them out here!
Bowling
Did you know that we have mini bowling lanes at LVGP? We sure do! Mini Bowling is a fun twist on the traditional bowling experience, featuring smaller pins, smaller balls, and much faster game play. Around here we like things FAST! (Can you tell?!) Since this game moves much quicker than games at your local bowling alley, it ups the fun-factor and allows for a more inclusive and engaging game play. Our lanes are available at a per game purchase or they can be reserved for large groups or parties. Both adults and kids get a kick out of our LED lit alleys and we promise no shoe rentals required!
Pool
Yes we do! Tucked right next to our Octane Adrenaline Bar is a regulation pool table just waiting for you to play! Keep the competition going post-race with a game or two against your friends. We know that variety is the spice of life so keeping our guests entertained with a ton of different activities is our thing. Another perk to providing you with engaging winter activities here at LVGP is that kids and teens can enjoy learning and playing pool in a safe, age-appropriate environment that is far from your typical pub or local bar.
Air Hockey
Speaking of kids…how about a nostalgic game of air hockey? When you flip the switch to turn on the table, that familiar hum of chilly air brings you right back to your childhood. You know the exact feeling of anticipation and excitement here! Relive those fun memories with a friendly duel and introduce your kiddos to a classic throwback. We are thrilled to offer unique winter activities that both kids and grown ups love!
Book your race online before leaving your house! We cannot wait to have fun with you!
#LehighValleyGrandPrix #LVGP #WinterActivities #FamilyFun #GetTheLeadOut
Social Events

| Race Hours | |
| --- | --- |
| Monday | 2pm-10pm |
| Tuesday-Thursday | 2pm-9pm |
| Friday | 2pm-10pm |
| Saturday | 12pm-10pm |
| Sunday | 12pm-7pm |

| Octane Hours | |
| --- | --- |
| Monday | 5pm-10pm |
| Tuesday-Thursday | 5pm-9pm |
| Friday | 4pm to 10pm |
| Saturday | 12pm to 10pm |
| Sunday | 12pm to 7pm |

Axe Throwing Hours
Monday, Tuesday, Wednesday & Thursday
Available for Private Events
Friday
4pm to 10pm
Saturday
2pm to 10pm
Sunday
12pm to 7pm
View Our Event Calendar