Back to Blog
March 19, 2012
VLK takes bragging rights at Jameson 12hr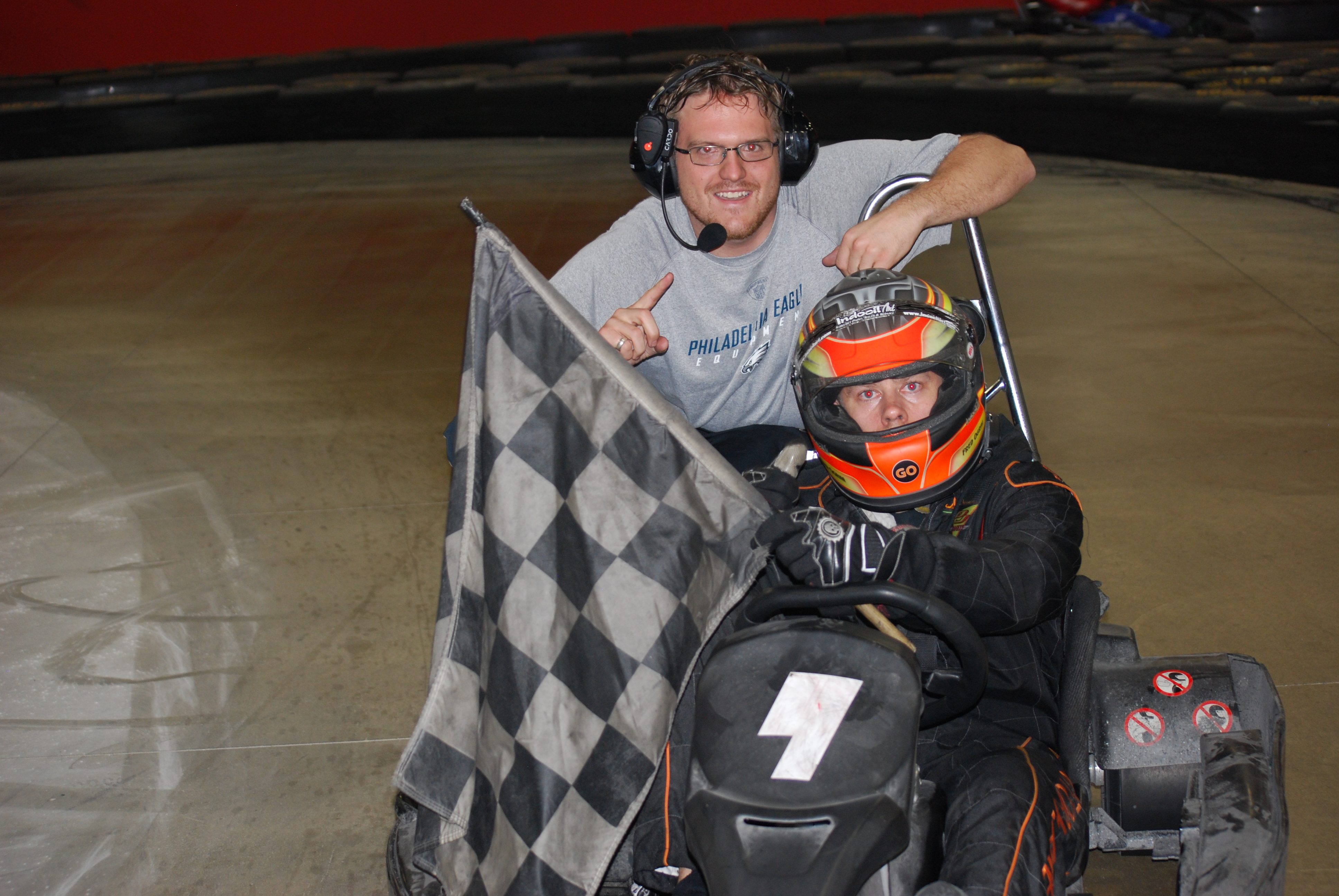 The Jameson 12hr is the ultimate test for competitors in indoor karting.  The team at LVGP delivered what could be regarded as one of the most challenging 12hr endurance race formats in the industry.  Teams from all over the East Coast showed up for the challenge including teams from Victory Lane Karting, Allsports Indoor Karting, F1 Boston and Summit Point.
The first 6 hours of the race was run with baby powder on the track.  The racing surface was extremely slick and proved to be a mental challenge for all of the competitors. "When you make a mistake on the slick track it costs you seconds, when you make a mistake on a tacky surface it costs you tenths," said Ryan Suchon, Competition Director. Teams that figured out the slick surface were able to create sizable leads on the other teams.
The second half of the race the staff let the powder run off and the surface gained grip.  What made it so challenging was the fact that the surface was constantly changing as the race went on. In the first 6 hrs, every time you seemed to get grip the track guys were throwing down more powder.  At the second half of the race as you gained grip the track put a greater physical toll on the body.
To start the race team MIA took a sizable lead with Ryan Curtin flying across the powder track.  Andrew Von Fange from Xpress Lube did a great job keeping pace but Curtin seemed to be the hot hand all day.  The 3rd team from VLK was able to maintain and kept the race within reach throughout the first 6hrs.
As the powder started to run off team VLK made their move to secure the top of the board.  The local team 333 was in a strong position halfway through the race but ran into some challenges and found themselves 4 laps down from VLK.  Throughout the second half of the race 333 made a strong charge to jump into the second position passing MIA for the second position.  MIA slowly faded in the second half after a strong start.  They appeared to be the team to beat but in the end they finished 3rd.
In the Amatuer class Wheel to wheel karting was able to secure the top position from start to finish.  The battle for second place proved to be the most exciting race of the 12hr.  With 10 minutes left in the race and a 1 lap lead team SNOT fought off Zack Dunn from THOSE DAMN KIDS to earn the second spot by less than 3 seconds.
LVGP would like to give special thanks to Fred Ogrim from Victory Lane Karting and Bill Judy from Wheel to Wheel karting for the active involvement and exposure.
Maybe next year we will get Fred and the Victory Lane Crew off the podium 😉
Final Standings
Pro Class
1.  VLK- Fred Ogrim, Hans Soneson, Ryan Curtin
2.  333- Mike Bendar, Carl Bligan, Kevin Bligan, Carter Fartuch
3.  MIA- Ryan Curtin, Andrew Hopwood, Fred Ogrim
4.  Xpress Lube- Jamil Nassar, Andrew Von Fange, Mike Birkle
5.  LVGP- Pat Gillin, Jason Frankenfield, GJ Dixon, Joe Voda
Amatuer Class
1.  Wheel to Wheel Karting- Bill Judy, Matt Williams, Jon Pessoa
2.  SNOT- Tom Philip, John Hall, Joe McGroagty, Chris Haug
3.  Those Damn Kids- Andrew Pettijohn, Zack Dunn, Hunter Stewart, Noah Kreitzer, Joey Brey, Jase Smith
4.  RMG- Jon Zombeck, Pat Gouttevel, Joe Bendor, Bodi Debnath, Jens Scott
Social Events

| Race Hours | |
| --- | --- |
| Monday-Thursday | 2pm-10pm |
| Friday | 2pm-9pm |
| Saturday | 12pm-9pm |
| Sunday | 12pm-7pm |

| Octane Hours | |
| --- | --- |
| Monday | 5pm-10pm |
| Tuesday-Wednesday | Closed |
| Thursday | Closed |
| Friday | 4pm to 9pm |
| Saturday | 12pm to 7pm |
| Sunday | 12pm to 7pm |

Axe Throwing Hours
Monday, Tuesday, Wednesday & Thursday
Closed
Friday
4pm to 9pm
Saturday
4pm to 9pm
Sunday
12pm to 7pm
View Our Event Calendar