Back to Blog
March 23, 2016
Go Kart Racing Corporate Team Building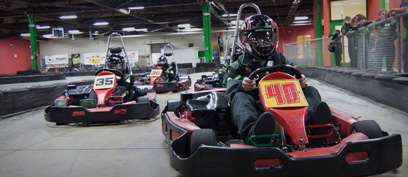 "The speed & sounds of the race track provide an exciting, high-energy atmosphere that really promotes group interaction & team building activities. A week later, our afternoon at LVGP is still the 'buzz' around the office."
Bob Wagner – Air Products
Corporate team building is often overlooked as a useful tool to get your employees on track and working towards the same goals.  But finding a fun, interactive team building event that doesn't leave your staff sitting in a conference room yawning from boredom can be a real challenge.  At Lehigh Valley Grand Prix we have developed a team racing experience that meets the team building goals of employers while also providing employees a fun and high energy experience.
Team racing is an exciting variation on indoor kart racing that challenges team members to demonstrate superior strategy, preparation, and teamwork to enable them to deliver at a high level.  Different than the every-man-for-himself mentality of individual racing, the team building programs established at Lehigh Valley Grand Prix encourage teams to work together to strategize and execute on that strategy in a fun and highly competitive racing environment.
Our most popular team building event is our Team Endurance Race – a very unique, high energy and explosive experience for your employees that forces them to work together to achieve their goal.  Groups are divided into evenly matched teams and then tasked with performing an endurance style race based on a given set of rules.  Every team must have a set number of drivers, and every person must perform a task.  It's up to the team to assign these roles based on each member's strengths.
In the Team Endurance Race, the fastest drivers on the track are not necessarily the winners.  This team building program is designed to reward teamwork, preparation and execution to achieve desired results, skills that translate from the race track to the work environment.  We have seen tremendous results with this program.  Teams develop stronger lines of communication, leadership, and strategy at our business team building events, lessons that prove invaluable in business.
Help your staff break down barriers and build trusting relationships to achieve victory on and off the race track with a team building event at Lehigh Valley Grand Prix!  For more information, read more about our team building programs at https://www.lehighvalleygrandprix.com/groups-parties/corporate-team-building/.  To schedule your event contact Ryan Suchon at 1.610.432.7223 or sales@lehighvalleygrandprix.com
Social Events

| Race Hours | |
| --- | --- |
| Monday-Thursday | 2pm-10pm |
| Friday | 2pm-9pm |
| Saturday | 12pm-9pm |
| Sunday | 12pm-7pm |

| Octane Hours | |
| --- | --- |
| Monday | 5pm-10pm |
| Tuesday-Wednesday | Closed |
| Thursday | Closed |
| Friday | 4pm to 9pm |
| Saturday | 12pm to 7pm |
| Sunday | 12pm to 7pm |

Axe Throwing Hours
Monday, Tuesday, Wednesday & Thursday
Closed
Friday
4pm to 9pm
Saturday
4pm to 9pm
Sunday
12pm to 7pm
View Our Event Calendar