Back to Blog
September 9, 2015
Show Your Clients Appreciation on the Fast Track at Lehigh Valley Grand Prix!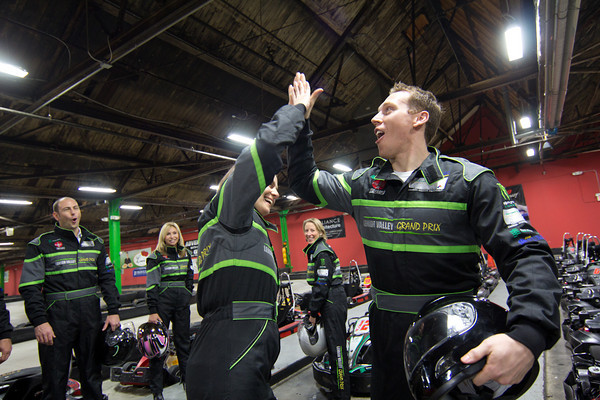 Show your clients appreciation by arranging a fun and invigorating company outing that reinforces loyalty to your brand. Enjoy post-race refueling with food and drink at our Octane Bar. Feel free to take in our 48,000 square foot facility or book a private VIP room.
According to ThinkAdvisor.com, they recommend deepening your client relationships outside of the boardroom, stating; "Client appreciation events help convey this all-important message to your clients: that they're more than just accounts and assets to your firm. They are appreciated, respected and, probably the highest compliment of all, they are people you'd hang out with on a Saturday afternoon and introduce to your family. The trust and loyalty that you can build through these events is measurable and yet immeasurable, and it will help create long-term, sustained growth for your business. "
From the starting line to the finish line, Lehigh Valley Grand Prix makes Company Outings fun and easy to plan.
Here's a list of details we typically ask for when booking your Client Appreciation Day.
Number of guests you wish to entertain
Budget you wish to maintain for the event
When you would like the event to take place
Food and drink menus desired
Book a VIP room and have a first-class event filled with racing, great food and drinks. Take advantage of your FREE RACE and TOUR OF OUR FACILITY to get a taste of the Adrenaline Rush that we can serve to your Team or Best Clients!! For more information on our Packages please contact Kristine at 610-432-RACE (7223) x1001 or kristine@lehighvalleygrandprix.com.
Extra Amenities are available including party decorations, trophies, t-shirts, limousine service and more!
"Everyone at LVGP was accommodating, courteous, and professional; start-to-finish. The facilities are first class all the way. The speed and sounds of the race track provide an exciting, high-energy atmosphere that really promotes group interaction and team building activities. A week later, our afternoon at LVGP is still the 'buzz' around the office."  – Bob Wagner of Air Products
Click here for more information on how we can show your clients appreciation at Lehigh Valley Grand Prix!
Social Events

| Race Hours | |
| --- | --- |
| Monday-Thursday | 2pm-10pm |
| Friday | 2pm-9pm |
| Saturday | 12pm-9pm |
| Sunday | 12pm-7pm |

| Octane Hours | |
| --- | --- |
| Monday | 5pm-10pm |
| Tuesday-Wednesday | Closed |
| Thursday | Closed |
| Friday | 4pm to 9pm |
| Saturday | 12pm to 7pm |
| Sunday | 12pm to 7pm |

Axe Throwing Hours
Monday, Tuesday, Wednesday & Thursday
Closed
Friday
4pm to 9pm
Saturday
4pm to 9pm
Sunday
12pm to 7pm
View Our Event Calendar