Back to Blog
March 20, 2012
Plan a Company Happy Hour!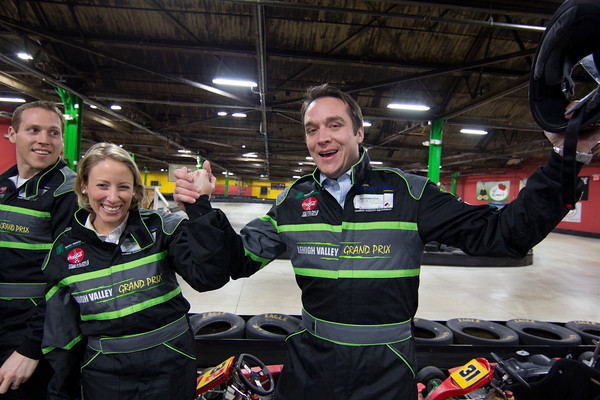 Lehigh Valley Grand Prix has become one of the top destinations for Corporate Outings in the Pennsylvania and New Jersey markets.  The popular karting facility has just completed a new renovation that brings a new level of excitement and product offerings.
Octane-adrenaline bar is the new bar and grill located at Lehigh Valley Grand Prix.  The bar and grill offers and beer, wine and liquor as well as great bar food menu.  "In the past we were limited on what we could offer groups when they visited the facility in terms of food and beverage.  Now the groups can hang out at the bar and enjoy a beverage after the racing as the continue the trash talk and bonding experience," said Mike McCreary, President of Octane.
Lehigh Valley Grand Prix is now offering new products such as Happy Hour packages where the groups can do a few races after work and then enjoy some appetizers and drinks at the bar.  "The ability to do happy hours is great for groups that look to break away and reward the team at the end of the work day.  It is also great for the smaller companies on a budget," said Kristine McCreary, President of Lehigh Valley Grand Prix.
The new bar and grill accommodates seating for 40 and has five 42″ televisions to enjoy sporting events.  If your company is looking to reward the team and give them a unique and exciting experience look into Lehigh Valley Grand Prix and Octane.
For more information you can contact Kristine McCreary at 610-432-RACE(7223) or kristine@lehighvalleygrandprix.com
Social Events

| Race Hours | |
| --- | --- |
| Monday-Thursday | 2pm-10pm |
| Friday | 2pm-9pm |
| Saturday | 12pm-9pm |
| Sunday | 12pm-7pm |

| Octane Hours | |
| --- | --- |
| Monday | 5pm-10pm |
| Tuesday-Wednesday | Closed |
| Thursday | Closed |
| Friday | 4pm to 9pm |
| Saturday | 12pm to 7pm |
| Sunday | 12pm to 7pm |

Axe Throwing Hours
Monday, Tuesday, Wednesday & Thursday
Closed
Friday
4pm to 9pm
Saturday
4pm to 9pm
Sunday
12pm to 7pm
View Our Event Calendar