Back to Blog
February 26, 2013
IS THE NEXT DANICA PATRICK AT LVGP?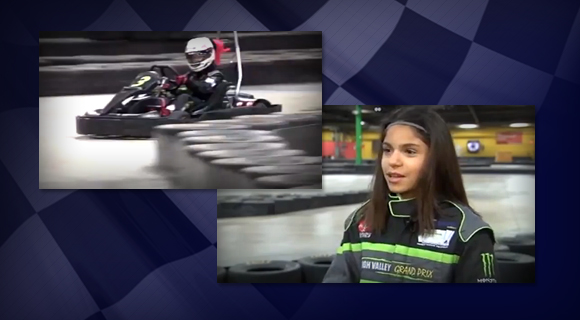 Danica Patrick's NASCAR success is inspiring girls across the nation to follow their dreams of becoming a racecar driver. There's no better place to start than at Lehigh Valley Grand Prix.
Kalynn Stroble and Jessica Brey have started their racing career with go-karts and are two of the top racers at LVGP. The girls are members of our Junior League and they have high hopes to become NASCAR drivers one day.
For the other girls who hope to go down in history like Danica Patrick, Stroble says "I would tell them to join because it's very fun." If you're looking for racing advice, Brey suggests, "Push down on the pedal as hard as you can and try to avoid hitting the walls."
To view the video interview, click here.
Social Events

| Race Hours | |
| --- | --- |
| Monday-Thursday | 2pm-10pm |
| Friday | 2pm-9pm |
| Saturday | 12pm-9pm |
| Sunday | 12pm-7pm |

| Octane Hours | |
| --- | --- |
| Monday | 5pm-10pm |
| Tuesday-Wednesday | Closed |
| Thursday | Closed |
| Friday | 4pm to 9pm |
| Saturday | 12pm to 7pm |
| Sunday | 12pm to 7pm |

Axe Throwing Hours
Monday, Tuesday, Wednesday & Thursday
Closed
Friday
4pm to 9pm
Saturday
4pm to 9pm
Sunday
12pm to 7pm
View Our Event Calendar