Back to Blog
February 17, 2016
I Can't Believe I'm Writing A Blog About A Bavarian Pretzel!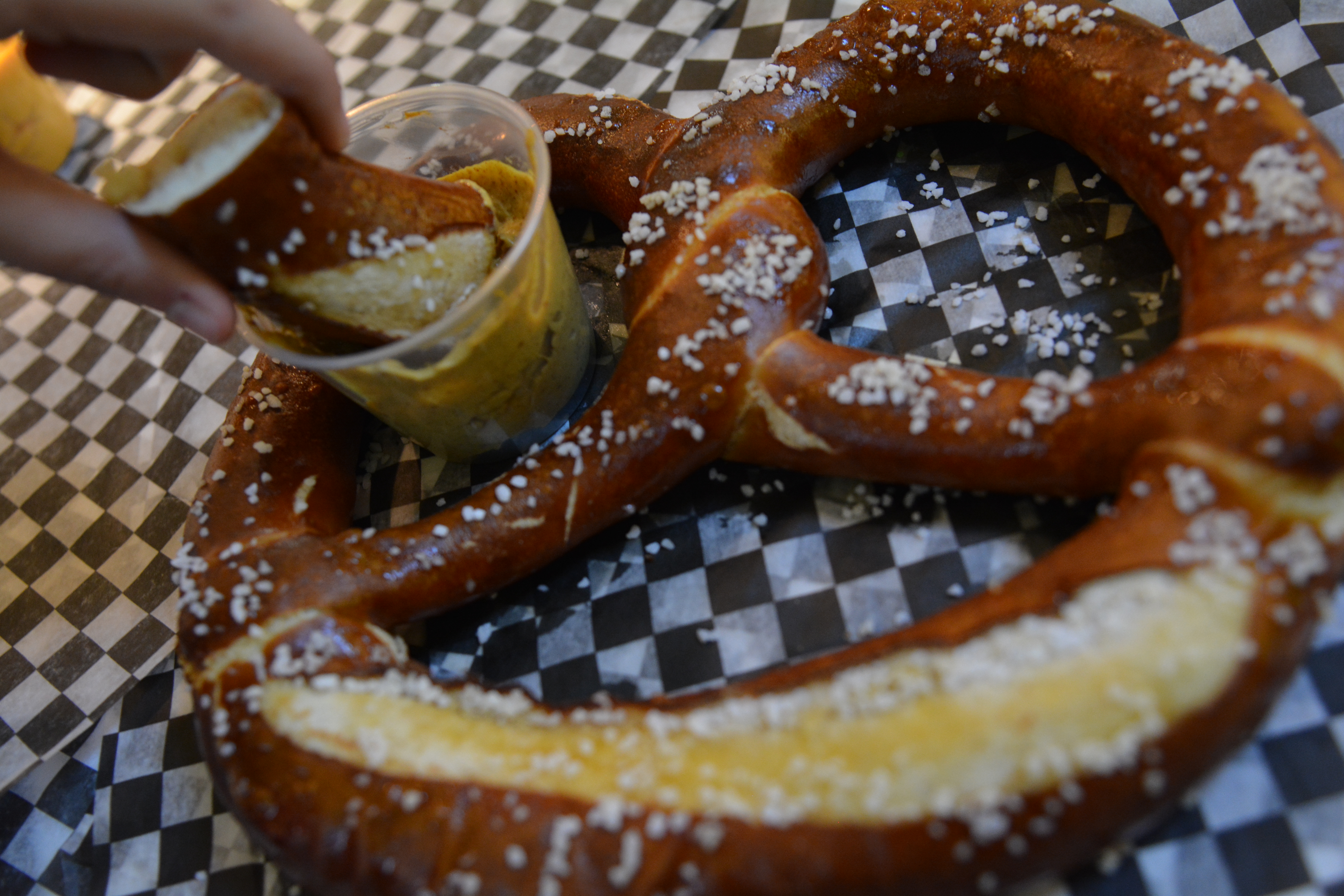 One of the most delicious reasons to go to the Lehigh Valley Grand Prix is the food on the menu at Octane Adrenaline.  Among the many delicious offerings including cheesesteak rolls, loaded fries, and delicious pizza is a new addition – a standout among the appetizers – an incredibly delicious Bavarian pretzel.  Now – you might be thinking, a pretzel is a pretzel.  But that is absolutely not the case with the Bavarian pretzels at Lehigh Valley Grand Prix.
When you think of a pretzel you are probably thinking of the classic Philadelphia-style pretzel – the delicious, salty and pull-out-a-tooth tough pretzel you can buy at baseball games or from street vendors in many major cities.  But the Lehigh Valley Grand Prix Bavarian pretzel is a cut above the traditional pretzel and couldn't be any more different.  This pretzel is light and airy, crispy on the outside, but tender on the inside.  The flaky crust is achieved by cooking it in a special oven at an extremely high temperature.  It is not too salty – and it is delicious when paired with our special spicy mustard and aged cheddar cheese sauce.  Wash down your pretzel with a glass of lager or one of our craft beers for an authentic German experience.
Octane Adrenaline features truly delicious food that is unlike the snack bar food you'll find at other sports activity venues here in the Lehigh Valley.  We make sure that any food we offer is unique, satisfying, and absolutely delicious.  We offer a wide selection of beers and are constantly evolving our beer selection as new options become available.  Our delicious cocktails, moonshine and variety of soft drinks are sure to satisfy every customer.
Octane Adrenaline is the only motorsports themed bar in the Lehigh Valley – stop by to watch the latest racing action on one of our 5 42-inch television screens, jump behind the wheel of one of our go-karts, and try our Bavarian pretzels and other delicious menu items.  We're looking forward to seeing you there!
Social Events

| Race Hours | |
| --- | --- |
| Monday-Thursday | 2pm-10pm |
| Friday | 2pm-9pm |
| Saturday | 12pm-9pm |
| Sunday | 12pm-7pm |

| Octane Hours | |
| --- | --- |
| Monday | 5pm-10pm |
| Tuesday-Wednesday | Closed |
| Thursday | Closed |
| Friday | 4pm to 9pm |
| Saturday | 12pm to 7pm |
| Sunday | 12pm to 7pm |

Axe Throwing Hours
Monday, Tuesday, Wednesday & Thursday
Closed
Friday
4pm to 9pm
Saturday
4pm to 9pm
Sunday
12pm to 7pm
View Our Event Calendar