Back to Blog
February 3, 2016
Go Kart Racing Safety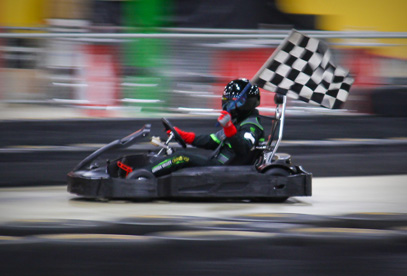 It's easy to get lost in the competitive nature of go kart racing, but our top priority at Lehigh Valley Grand Prix is go kart racing safety.  What's meant to be a fun day on the track can turn dangerous when competitors lose sight of safety.  We want you to have fun while you race – and here are some simple go kart racing safety rules to follow to maximize your experience on our track:
No bumping of the karts is allowed!!
Avoid bumping into the barriers or anything else on the track.
Do not stop on the track.
Helmet, neck brace, seatbelt, and closed toe shoes are mandatory while racing. No high heels!
Keep both hands on the wheel at all times.
A minimum height of 48" is required for youth drivers and 56" for adults.
Youth drivers (10-17) must have parental consent. Birth Certificate is required.
All racers must sign a waiver and release of liability form.
All racers must attend a safety briefing on rules and regulations.
Anyone under the influence of drugs or alcohol will not race. There is also no smoking in the facility.
Long hair must be tucked into helmet.
Pay attention to all track officials and warning flags. Failure to do so once will result in a warning.  Ignore the flags twice and our officials will ask you to sit out a portion of your race:
Remember – it is possible to be competitive while also being safe.  Following these simple go kart racing safety rules will make your time on the track more enjoyable, and keep you and everyone you race with safe.
Social Events

| Race Hours | |
| --- | --- |
| Monday | 2pm-10pm |
| Tuesday-Thursday | 2pm-9pm |
| Friday | 2pm-10pm |
| Saturday | 12pm-10pm |
| Sunday | 12pm-7pm |

| Octane Hours | |
| --- | --- |
| Monday | 5pm-10pm |
| Tuesday-Thursday | 5pm-9pm |
| Friday | 4pm to 10pm |
| Saturday | 12pm to 10pm |
| Sunday | 12pm to 7pm |

Axe Throwing Hours
Monday, Tuesday, Wednesday & Thursday
Closed
Friday
4pm to 10pm
Saturday
2pm to 10pm
Sunday
12pm to 7pm
View Our Event Calendar