Back to Blog
February 19, 2013
Girls on the go: local drivers influenced by Danica Patrick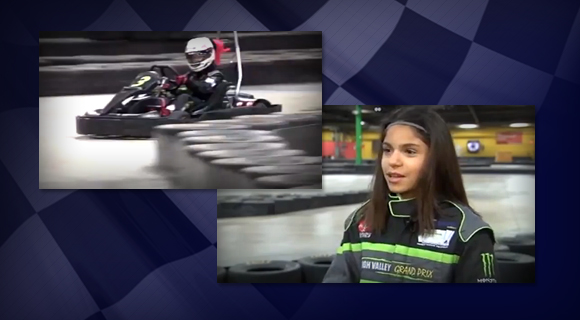 ALLENTOWN, Pa. –
For the first time in Daytona 500 history, a woman will start from the pole position. And two local girls are among those hoping to follow in Danica Patrick's tire tracks someday.
When they rev the engines at Lehigh Valley Grand Prix in Allentown, it's not just the guys on the go-kart track. Kalynn Stroble and Jessica Brey can teach you a thing or two about the need for speed.
"You get to race and pass people and you win sometimes," said Stroble.
These girls are not only winning sometimes, they are two of the top racers at this indoor race track and in the state for their age group.
"There was a challenge between Delaware and here and I came in first," added Brey. "And I won first for junior league."
"I've won three trophies and two medals," said Stroble.
The girls say they are into racing because of one person: Danica Patrick.
"She's a girl race car driver and I like racing," added Brey.
In fact, Jessica Brey doesn't even go by her real name on the track. The mighty racer in the pink pig tails is known as Danica 10, a reference to her favorite driver and the number of the car Patrick drives.
"She's one of the people that I look forward to and stuff," said Brey.
Both girls say they hope racing here on the go-kart tack turns into a NASCAR gig. Some of the guys racing with them say they've got a very good chance at it.
"It was really crazy," said Jose Mori, a person racing against the girls. "They're really competitive, really out there, they know what they are doing definitely."
There are only four girls racing in the junior league at Lehigh Valley Grand Prix. They have some good advice for other thinking about joining.
"I would tell them to join because it's very fun," said Stroble.
"Push down on the pedal as hard as you can and try avoid not hitting the walls," added Brey.
Source: http://www.wfmz.com/news/news-regional-lehighvalley/Girls-on-the-go-local-drivers-influenced-by-Danica-Patrick/-/132502/18975772/-/pi78n6/-/index.html
Social Events

| Race Hours | |
| --- | --- |
| Monday-Thursday | 2pm-10pm |
| Friday | 2pm-9pm |
| Saturday | 12pm-9pm |
| Sunday | 12pm-7pm |

| Octane Hours | |
| --- | --- |
| Monday | 5pm-10pm |
| Tuesday-Wednesday | Closed |
| Thursday | Closed |
| Friday | 4pm to 9pm |
| Saturday | 12pm to 7pm |
| Sunday | 12pm to 7pm |

Axe Throwing Hours
Monday, Tuesday, Wednesday & Thursday
Closed
Friday
4pm to 9pm
Saturday
4pm to 9pm
Sunday
12pm to 7pm
View Our Event Calendar