Back to Blog
December 1, 2015
New Employee Incentives for Team Building Event Referrals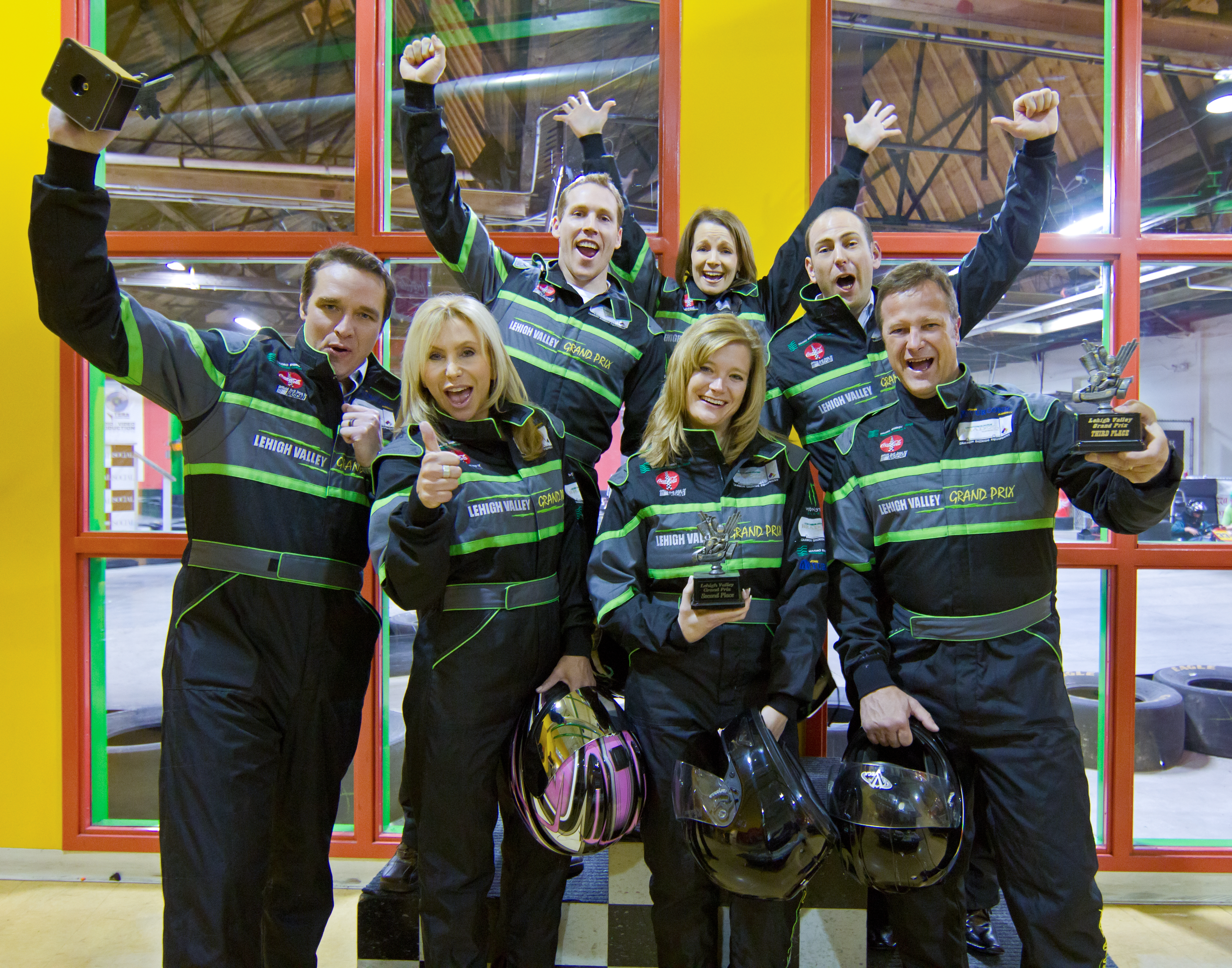 Looking for Lehigh Valley Team Building events?
What could be more exciting than an adrenaline filled Team Building event at Lehigh Valley Grand Prix!  Why spend valuable company time behind a conference table, listening to someone lecture about the best way to become a valuable team member.  We offer fun and exciting Lehigh Valley Team Building events with a unique hands-on approach that your employees will love.  Get your team working side-by-side to build strategy, communication and leadership skills during an adrenaline-filled, high-octane fun Lehigh Valley Grand Prix Team Building event.
We Have a Reward For You!
Racing is always fun, even if you lose.  What could be better than Go-Kart racing at 45 mph?  At Lehigh Valley Grand Prix, we've come up with a way to ensure you're always a winner with our employee incentive program.  If you recommend an indoor kart racing Team Building event to your employer, and they book an event with us, you will receive a $50 gift certificate to use on a future visit to our track.
Tell your employer about our Team Building events today – and when they are ready to book, have them contact Kristine McCreary at 1.610.432.7223 x1001 or kristine@lehighvalleygrandprix.com for more information and to reserve a date today.  Be sure they mention your name when they commit to an event in order for you to receive your reward.
Don't wait – get on the track to building a more successful business team today – contact Lehigh Valley Grand Prix to get started!
Of course with any gift certificate there have to be some rules – and here are ours:
Terms and Conditions:
Gift Certificate is valid for one (1) year from the date of issue.
Winning employee cannot, in any way, be related to the business decision maker or anyone at Lehigh Valley Grand Prix.
Gift Certificate is not redeemable for cash and has no cash value.
Gift Certificate is good on Lehigh Valley Grand Prix racing, not at the Octane-Adrenaline bar and can not to be used to purchase alcoholic beverages.
Lehigh Valley Grand Prix reserves the right not to honor this gift certificate if it reasonably believes it was not validly redeemed, has already been redeemed, or the redeemer stole or is otherwise not the intended beneficiary. 
Lehigh Valley Grand Prix is not responsible for lost or stolen gift certificates.
Social Events

| Race Hours | |
| --- | --- |
| Monday-Thursday | 2pm-10pm |
| Friday | 2pm-9pm |
| Saturday | 12pm-9pm |
| Sunday | 12pm-7pm |

| Octane Hours | |
| --- | --- |
| Monday | 5pm-10pm |
| Tuesday-Wednesday | Closed |
| Thursday | Closed |
| Friday | 4pm to 9pm |
| Saturday | 12pm to 7pm |
| Sunday | 12pm to 7pm |

Axe Throwing Hours
Monday, Tuesday, Wednesday & Thursday
Closed
Friday
4pm to 9pm
Saturday
4pm to 9pm
Sunday
12pm to 7pm
View Our Event Calendar