Back to Blog
November 6, 2019
Driver Highlight: Junior Johnson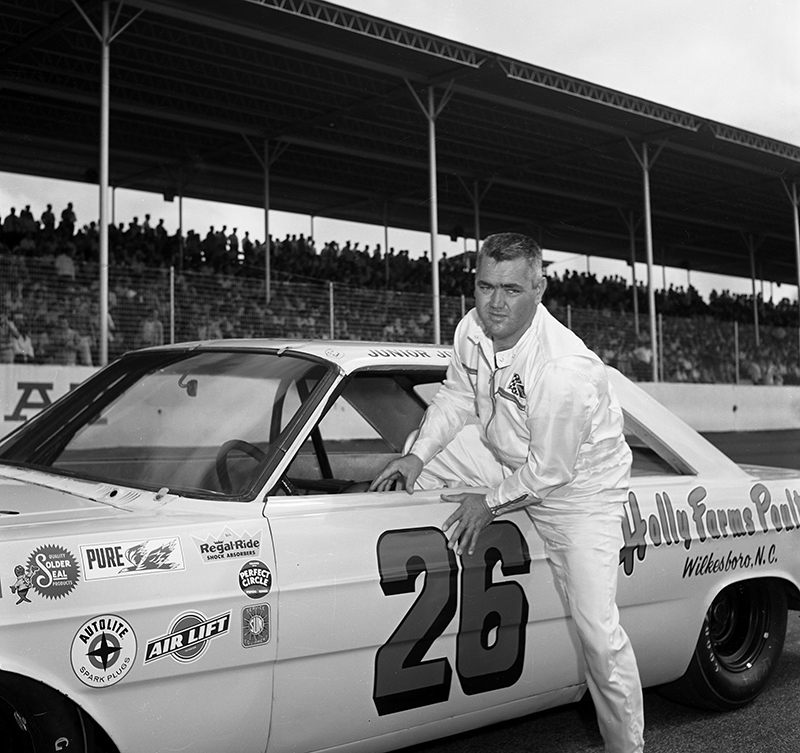 In today's blog, we are highlighting and reflecting on "The Last American Hero" Junior Johnson, aka Robert Glenn Johnson, Jr. He is credited as the first to use the drafting technique in stock car racing, and is a former NASCAR driver of the 1950s and 60s. Before retiring in 1966, Junior Johnson won 50 NASCAR races. In the 1970s and 80s, he became an owner of a NASCAR racing team and sponsored champions such as Cale Yarborough and Darrell Waltrip.
About Junior Johnson
Junior Johnson began his career as a NASCAR driver in 1955. He won five races in his first full season and finished sixth in the 1955 NASCAR Grand National points standings. By 1959 he was noted as one of the best short-track racers in the sport after winning five more NASCAR Grand National races. His first win at a "superspeedway" came at the Daytona 500 in 1960.
On December 26, 1986, President Ronald Reagan granted Johnson a presidential pardon for his 1956 moonshining conviction. In response to the pardon, which restored his right to vote, Johnson said, "I could not have imagined anything better."
In 1991 he was inducted in the Motorsports Hall of Fame of America. He was named one of NASCAR's 50 Greatest Drivers in 1998.
In May 2007, Johnson teamed with Piedmont Distillers to introduce the company's second moonshine product, called "Midnight Moon Moonshine". Today, Junior Johnson produces a line of fried pork skins and country ham.
Sources:
#LehighValleyGrandPrix #LVGP #DriverHighlight #JuniorJohnson
Social Events

| Race Hours | |
| --- | --- |
| Monday-Thursday | 2pm-10pm |
| Friday | 2pm-9pm |
| Saturday | 12pm-9pm |
| Sunday | 12pm-7pm |

| Octane Hours | |
| --- | --- |
| Monday | 5pm-10pm |
| Tuesday-Wednesday | Closed |
| Thursday | Closed |
| Friday | 4pm to 9pm |
| Saturday | 12pm to 7pm |
| Sunday | 12pm to 7pm |

Axe Throwing Hours
Monday, Tuesday, Wednesday & Thursday
Closed
Friday
4pm to 9pm
Saturday
4pm to 9pm
Sunday
12pm to 7pm
View Our Event Calendar