Back to Blog
October 20, 2015
Don't Just Speed Through Your Bachelor Party Decision!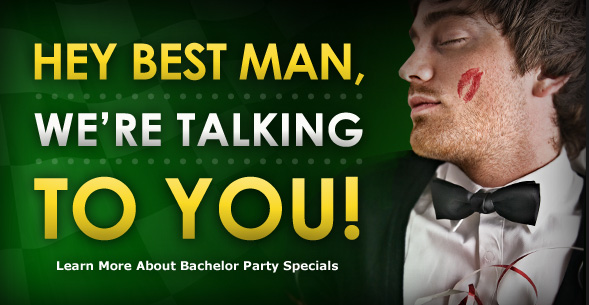 This is your night.  It's your Bachelor Party. This is the night held through years of tradition to go a little crazy and "sow your wild oats" with friends before you tie the knot.  Why not spend the night racing at Lehigh Valley Grand Prix?
What group of friends doesn't like a little friendly competition?  Go-Kart racing is the perfect activity for your Bachelor Party.  Whether you are racing or cheering on some friends, the high-octane environment is sure to get your adrenaline pumping. Lehigh Valley Grand Prix go-karts can exceed 45mph during your race and our new track features a 300-foot straightaway that will challenge you to pass your friends at high speeds.   After completing each race, you and your group will get a printout with the statistics from your race and a champion will be crowned. Bragging rights for the evening will go to the winner.  Will your friends take it easy on you since it's your night?
Lehigh Valley Grand Prix offers several different packages for Bachelor Parties, including one that ends with an official awards ceremony and another that comes with a free alcoholic beverage for the groom. However, per our policy, alcoholic drinks must be consumed after the racing is finished — no drinking and driving on our watch.
Bachelor party packages start at $49 per guest with a minimum of eight people to a group.  We are a safe one-stop destination.  Grab some great food and drinks at our very own Octane Adrenaline Bar, located inside the building.
If you are interested in one of our packages, we encourage you to book two to four weeks in advance, especially if there is a specific date and time needed. Special accommodations may be made last minute – so be sure to give us a call to discuss.
For more information, contact Kristine McCreary at 610-432-7223 ext. 1001 or by email:kristine@lehighvalleygrandprix.com
Social Events

| Race Hours | |
| --- | --- |
| Monday-Thursday | 2pm-10pm |
| Friday | 2pm-9pm |
| Saturday | 12pm-9pm |
| Sunday | 12pm-7pm |

| Octane Hours | |
| --- | --- |
| Monday | 5pm-10pm |
| Tuesday-Wednesday | Closed |
| Thursday | Closed |
| Friday | 4pm to 9pm |
| Saturday | 12pm to 7pm |
| Sunday | 12pm to 7pm |

Axe Throwing Hours
Monday, Tuesday, Wednesday & Thursday
Closed
Friday
4pm to 9pm
Saturday
4pm to 9pm
Sunday
12pm to 7pm
View Our Event Calendar