Back to Blog
June 7, 2022
Dad's 'n Grads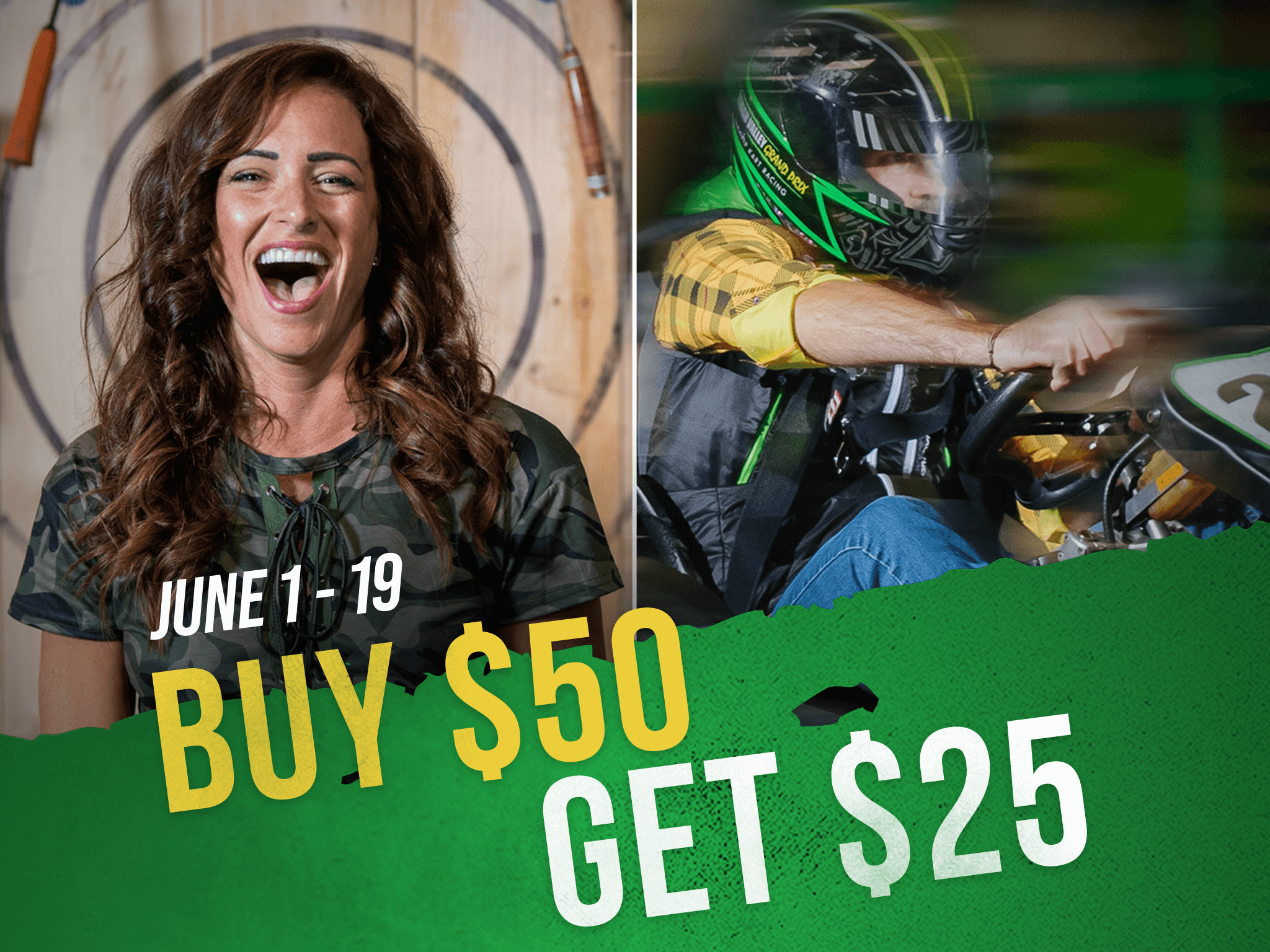 Save your lawn! Ditch the backyard tent and take your summer party to the next level. Whether your child is graduating or you just want to give dad a Father's Day to remember, we're your one stop shop. The only thing harder than high school is small talk, so give your party something to talk about. Our team will help you curate an unforgettable party with options to race and/or throw axes, all fueled by our in-house catering. No group is too small or large for a maximum good time.
RACE
The perfect remedy for a quarterlife or midlife crisis is speed! Our high-speed karts reach speeds of 45mph and will kick your party up a notch or three. Our ¼ mile track makes for the perfect place to test your limits and has a tire barrier lined with over 1,300 Goodyear tires from a single NASCAR race. Place your bets, because someone is getting lapped.
AXE
Try your aim by booking our axe-throwing room. Our team will lead your group in "Axe Throwing 101" before challenging the party to some friendly competition. With multiple lanes, we can accommodate a variety of group sizes. All that's left to see who can throw just right.
EAT
We won't let your party get hangry. Our Octane Adrenaline Bar offers fan favorite food and drinks. Indulge dad with one of our buckets of beer while the tikes stuff their faces with pizza, wings, and our loaded fries. Your menu will be perfected to satisfy any taste bud.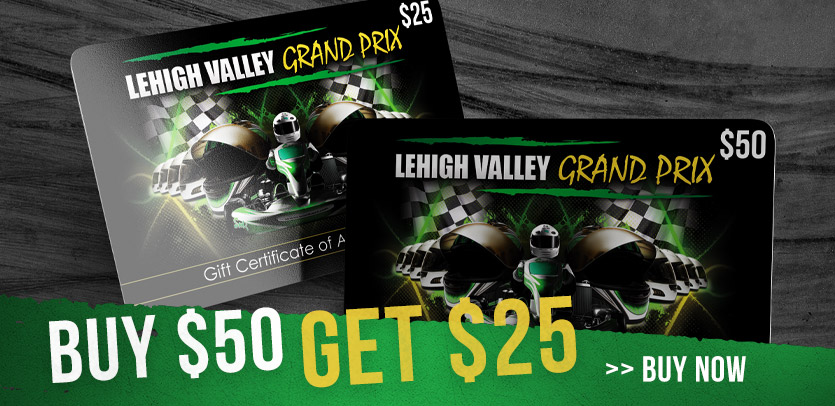 HELLUVA  GIFT
From June 1st through the 19th, we are adding an extra $25 value to the $50 gift card (total value $75). This is our best deal of the year so act now!
Whatever you're celebrating this summer, bring your crowd to us for a guaranteed good time. Booking is simple. To schedule a party at Lehigh Valley Grand Prix, contact Ryan Suchon at 1.610.432.7223 or by email at sales@lehighvalleygrandprix.com.
Social Events

| Race Hours | |
| --- | --- |
| Monday | 2pm-10pm |
| Tuesday-Thursday | 2pm-9pm |
| Friday | 2pm-10pm |
| Saturday | 12pm-10pm |
| Sunday | 12pm-7pm |

| Octane Hours | |
| --- | --- |
| Monday | 5pm-10pm |
| Tuesday-Thursday | 5pm-9pm |
| Friday | 4pm to 10pm |
| Saturday | 12pm to 10pm |
| Sunday | 12pm to 7pm |

Axe Throwing Hours
Monday, Tuesday, Wednesday & Thursday
Available for Private Events
Friday
4pm to 10pm
Saturday
2pm to 10pm
Sunday
12pm to 7pm
View Our Event Calendar