Back to Blog
January 19, 2016
Lehigh Valley Grand Prix – Customer Reviews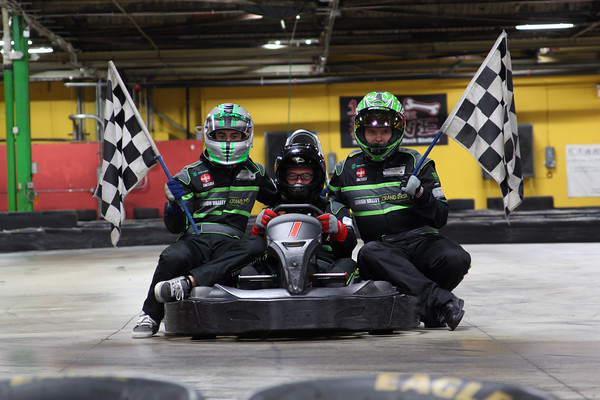 Customer Reviews:
This place was awesome. Staff was friendly and helpful, and their group rates are an extraordinary deal, all things considered… I conversed several times with the owner and enjoyed our conversation. Very good vibe coming from these folks, I would definitely recommend LVGP for group outings and fast carts. Thanks guys!
I have been to many indoor karting facilities, this place is awesome! Very consistent, gas powered karts, sweet track layout, and great staff. See you again soon.
Greatest fun you can have. I freakin' love this place!!!!!!
Great staff. Good safety brief. Good track. And a bar for when you're done racing. Can't ask for more.
At Lehigh Valley Grand Prix, we have the BEST customers anywhere!   We work hard to provide our racers with the ultimate possible experience.  We keep our track up to date, our carts are in great shape, and we regularly enhance the experience with new activities such as mini-bowling.  We offer delicious food at the Octane-Adrenaline bar, and have a wide selection of beer and mixed drinks to celebrate your victory post-race.  We do this because we truly value our customers and want to provide them with the best possible go kart racing experience.  As a result our customers respond with overwhelmingly positive feedback like the customer reviews you see above.  We are proud and humbled by their support.
Lehigh Valley Grand Prix is a one-of-a-kind destination right in the heart of the Lehigh Valley, PA.  Centrally located to the tri-state area, some of our customers are willing to travel great distances to enjoy go kart racing fun at our facility, and they keep coming back for more.  Our league racers are some of our biggest fans, and they've come to be part of our extended family.   We are so thankful for their support, and plan to continue offering fun new activities, specials, events, happy hours, and parties that will keep the experience fresh as a reward for their loyalty.
Thank you to our customers! We truly value you and the contributions you make to our success!  For more reviews of the Lehigh Valley Grand Prix experience, visit us on Facebook.
Social Events

| Race Hours | |
| --- | --- |
| Monday-Thursday | 2pm-10pm |
| Friday | 2pm-9pm |
| Saturday | 12pm-9pm |
| Sunday | 12pm-7pm |

| Octane Hours | |
| --- | --- |
| Monday | 5pm-10pm |
| Tuesday-Wednesday | Closed |
| Thursday | Closed |
| Friday | 4pm to 9pm |
| Saturday | 12pm to 7pm |
| Sunday | 12pm to 7pm |

Axe Throwing Hours
Monday, Tuesday, Wednesday & Thursday
Closed
Friday
4pm to 9pm
Saturday
4pm to 9pm
Sunday
12pm to 7pm
View Our Event Calendar