Back to Blog
March 9, 2016
Corporate Parties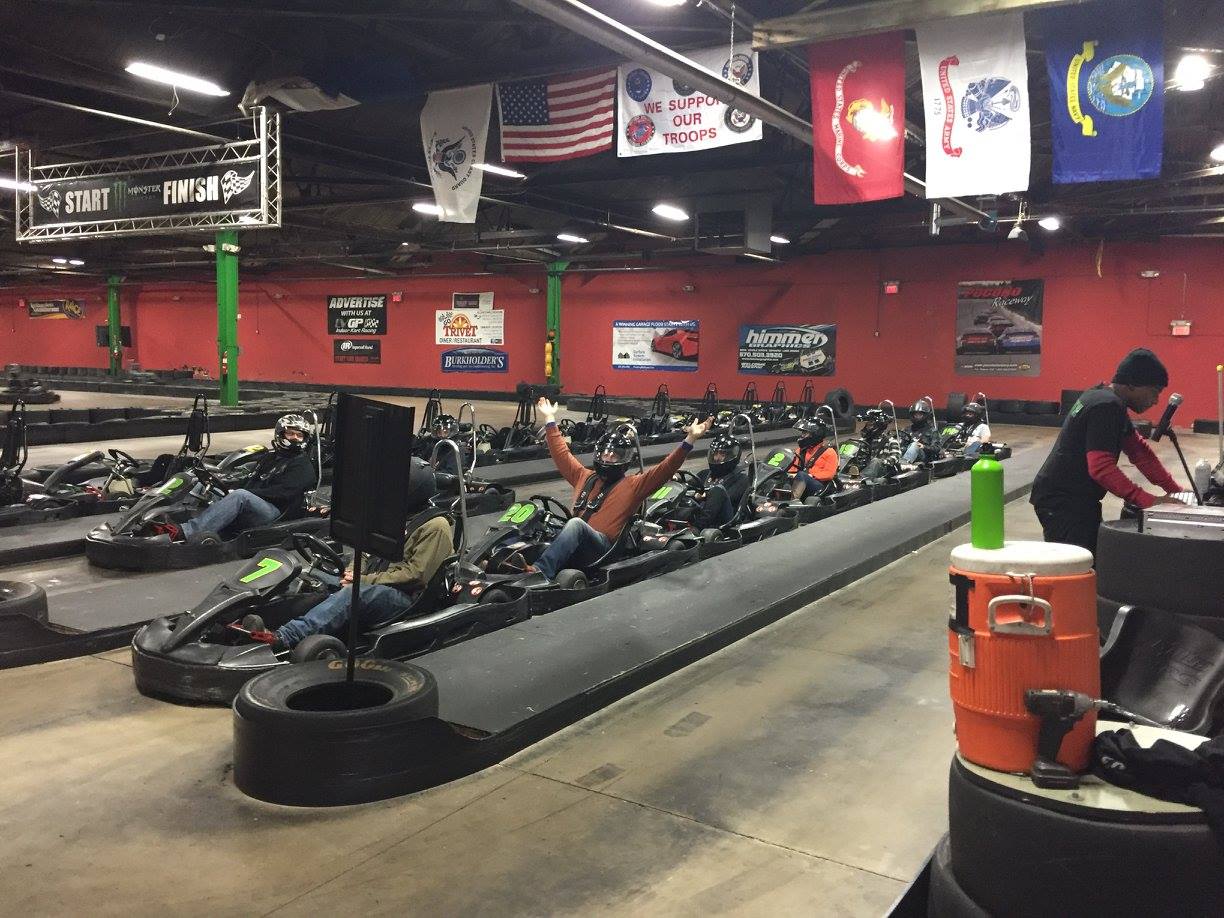 Corporate parties are usually pretty hum drum.  The dreaded company picnic or holiday party feels just like another meeting, and many employees dread being forced to make small talk with people they may already see more than their own spouse each week.  But that's not the case with corporate parties at Lehigh Valley Grand Prix.
Take you employees out of their work environment and let them hit the track for some friendly competition with a night on the track at Lehigh Valley Grand Prix.  Celebrate your employees and reward them for all their hard work with an action packed party they will love.  Racing allows employees to blow off steam and have fun, and removes the pressures of making small talk.  Slip in a little team building to your event to shore up the relationship between coworkers  – they'll never know what hit them.
Employees can also take advantage of our mini-bowling lanes and onsite games to add additional activities to corporate parties.  Choose delicious food and snacks from the Octane Adrenaline catering menu to enahance the party environment, including delicious pizza and wings, Bavarian pretzels, cheesesteak rolls, mozzarella sticks, popcorn and more.
Happy Hour at Octane Adrenalinebar is just thing to finish off a night of racing fun.  Allow your employees to blow off steam, improve morale and camaraderie in a relaxed environment.  Not only does happy hour offer some light at the end of the tunnel during a grueling work week or deadline, it provides the perfect light-hearted atmosphere to develop lasting relationships out of the workplace.  Octane Adrenaline offers something for everyone – including an impressive array of beer, cocktails, and soft drinks
Can't plan a party for all your employees, but want to reward a team for their hard work, or help them blow off steam during a stressful project?   Surprise them with a few races at Lehigh Valley Grand Prix! Seeing their coworker whiz past you on the race track – rather than stare at you over the top of their cubicle – will help renew their energy and release stress.   The rewards of corporate parties at Lehigh Valley Grand Prix will be worth the investment in your team.
To schedule a party at Lehigh Valley Grand Prix, contact Ryan Suchon at 1.610.432.7223 or by email at sales@lehighvalleygrandprix.com .
Social Events

| Race Hours | |
| --- | --- |
| Monday-Thursday | 2pm-10pm |
| Friday | 2pm-9pm |
| Saturday | 12pm-9pm |
| Sunday | 12pm-7pm |

| Octane Hours | |
| --- | --- |
| Monday | 5pm-10pm |
| Tuesday-Wednesday | Closed |
| Thursday | Closed |
| Friday | 4pm to 9pm |
| Saturday | 12pm to 7pm |
| Sunday | 12pm to 7pm |

Axe Throwing Hours
Monday, Tuesday, Wednesday & Thursday
Closed
Friday
4pm to 9pm
Saturday
4pm to 9pm
Sunday
12pm to 7pm
View Our Event Calendar