Back to Blog
February 27, 2012
LVGP500 & Pocono Raceway Viewing Party a Hit!!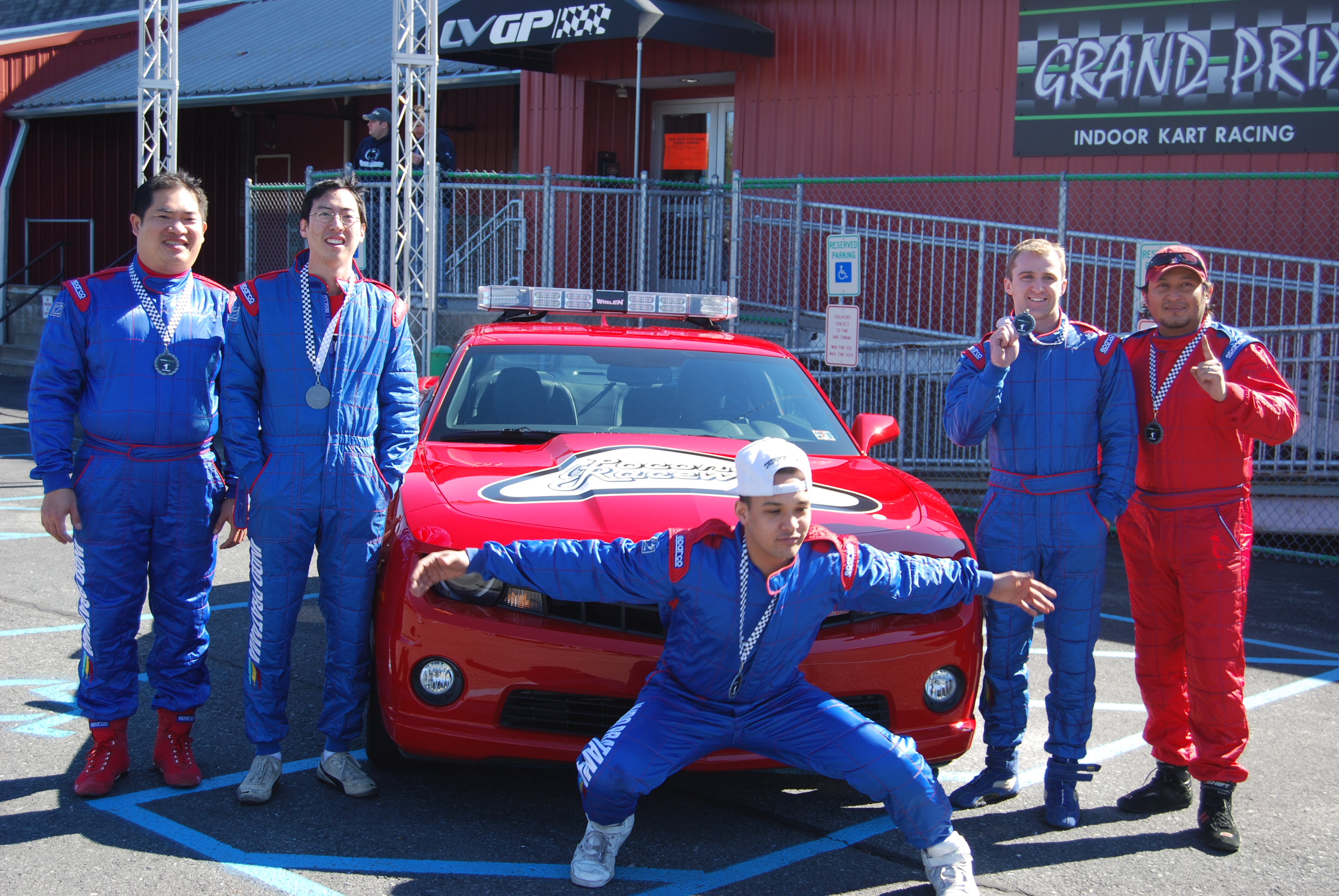 It would take a lot more than a little rainout to stop the fun at the LVGP500 and Pocono Raceway Viewing Party!!
As the teams rolled in for the sold out event at 7am to prepare for the first ever LVGP500 you could feel that it was going to be a great competition.  The field held 13 teams, 4 teams in the pro class and 9 teams in the amateur field.
To qualify for the race the teams participated in a 5 minute qualifier.  The results.  1. Runt & Jianni 2.  Speed Dudes 3.  Octane  4.  Boneheads  5.  333  6.  Racer X  7.  Indo Pratama  8.  The Bitches  9.  Speed Shop  10.  Rib Breaker  11.  Pocono Raceway  12.  Sibum Auto Part  13.  Wheel2Wheel.
The start of the race was chaos.  On the first start a kart didn't make it to the green flag so there had a to be a restart.  On the restart the top qualifier pulled in to make a kart swap giving up the lead on the first lap!  Speed Dudes quickly followed for a stop and go in the pits.  Team 333 also did a kart swap to start the race.  After two laps team Octane was in the lead!  That lead wouldn't last long as Team 333 charged up the field and made the pass.
Team 333 would run a near flawless race to take a victory in the Pro class with a 3 lap lead. Team Speed Dudes who had won the previous 5 enduros would finish in the second position, while Runt & Jianni would fight back after some poor decision making early on to secure the final podium spot.
The Amatuer class provided some good racing as well as some comic relief in the pit area.  Team Indo Pratama fielded a team from the Northern Virginia area and had very little experience on the LVGP track.  This team of experienced drivers would eventually figure out the line and make a 3 lap comeback to beat out Octane for the amateur victory!  Octane finished the race a 1/4 lap behind Indo Pratama with "The B's" finishing in 3rd place.
After the race the awards ceremony held in the main lobby  was packed wall to wall with people attending the race as well as the Pocono Raceway Viewing party, provided some great recognition for the participants.
Following the awards Kevin Haney from Pocono Raceway started up the Viewing Party.  With great anticipation for the Daytona 500 it was disappointing to have the rainout but Kevin made the most of it.  The crowd latest for a few hours while Pocono gave away race tickets, signed racing memorabilia and gear.  Overall, it was a great event even though the NASCAR race never got going.
Overall LVGP500 Results
Pro Class
1.  Team 333- 500 laps
2.  Speed Dudes- 497 laps
3.  Runt(.)(.)Jianni- 494 laps
4.  Boneheads- 489 laps
Amatuer Class
1.  Indo Pratama- 479 laps
2.  Octane- 479 laps
3.  The B's- 472 laps
4.  Sibum Auto Part- 467 laps
5. Speed Shop- 466 laps
6.  Racer X- 464 laps
7.  Pocono Raceway- 455 laps
8.  Rib Breaker- 454 laps
9.  Wheel2Wheel- 448 laps