Back to Blog
December 7, 2011
LVGP represents at 12hrs of VLK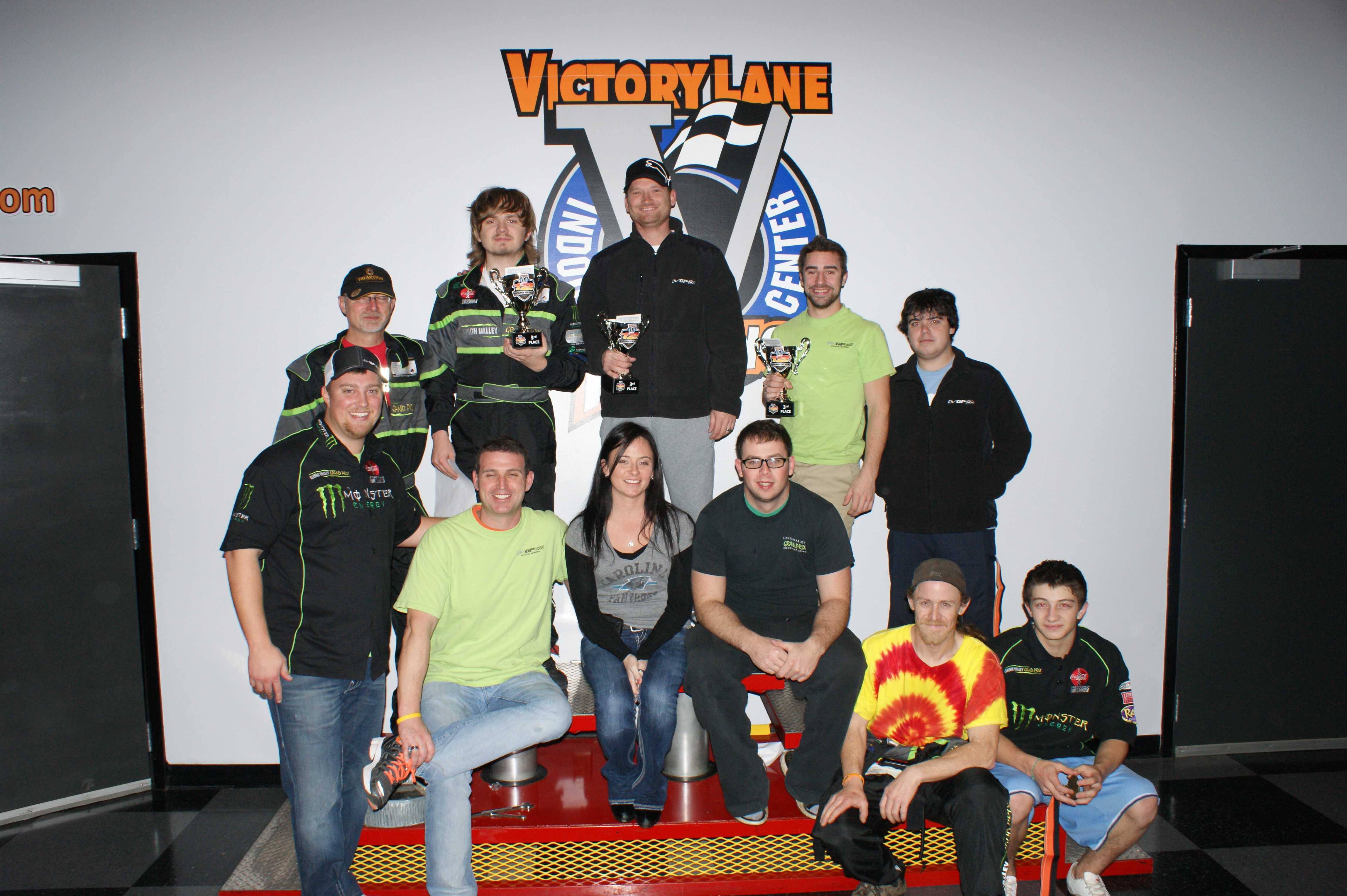 The 12hrs of VLK held at Victory Lane Karting in Charlotte, NC is always a great test to see how your team matches up against the best in the industry.  LVGP sent down 3 teams to take part in the annual event with hopes to prove that we have what it takes against the top drivers in the nation.
The field hosted competitors such as Fred Ogrim, Dan Burke, Johan Schwarz and other internationally ranked drivers.  Out of a 14 team field team LVGP took home 3rd, 7th and 11th respectively.  Missing 2nd place by a few tenths of a second to the team from Endurance Karting provided excitment for the drivers.
"Last year we fought for 5th place.  This year we proved we had what it took to get 2nd.  We just missed it, but I know they will be looking out for us next year," said Kyle Lick aka Runt.
It truly was an exciting finish.  With just over an hour and a half left in the race Mike Bednar passed the kart off to Carl Bligan for the finish.  With a 1/4 lap lead, Carl had the impossible task of fighting off Dan Burke from Endurance Karting.  At the 55 minute Dan took advantage of some lap traffic and made an impressive move to sneak past Carl and team LVGP.  Dan managed to hold Carl off for the finish as the both crossed with a very little gap between them.
"We knew it was going to be tough to hold Dan off.  I have been on Dan's team in the past and have seen him work his magic.  It was tough being on this side of it but I am extremely proud of Carl and the team for a strong finish and a great race!" Kevin Bligan, LVGP driver and father of Carl Bligan commenting on his son's finish.
The LVGP teams all seemed to struggle in the pits throughout the race.  Seat belt issues plagued all 3 teams that were all running strong lap times.  It cost the team 2nd place but there was no chance the team had at catching the front runners from VLK.  There is great excitement on the improvement from last year but in the back of their minds the competitors know they left too much time in the pits.  Next year should be a fun and exciting test.
LVGP Team Roster
Kevin Bligan, Carl Bligan, Jason Frankenfield, Ryan Suchon, Kyle Lick, Jianni Koburi, Andrew Pettijohn, Pat Gillin, Michael Bednar
Click the Link for a video from the race!
LVGP will be holding a 12hr race at the end of March.  Look out for details!