Back to Blog
November 18, 2013
LVGP & It's Customers Donate to Local Food Bank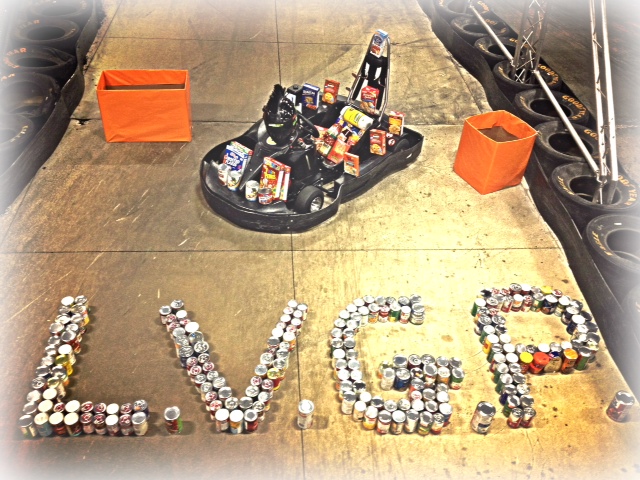 One of the greatest feelings in the world is helping those in need.  This holiday season Lehigh Valley Grand Prix ran a special promotion for customers who donated non-perishable food items from Oct 1st through Nov 17th.  The fundraising finished off with Lehigh Valley Grand Prix's 1st Annual Turkey Bowl, a 3hr endurance karting race.
Customers of the track and participants from the Turkey Bowl helped the track raise 268 items which was just over 330lbs of donations for the 2nd Harvest Food Bank.
The team at Lehigh Valley Grand Prix would like to Thank All of the customers who participated this year and we hope to grow the donations next year!!!
About the 2nd Harvest Food Bank
Second Harvest Food Bank began its mission to end hunger in October of 1982 as the Lehigh Valley Food Bank, a program of the Community Action Committee of the Lehigh Valley, Inc. (CACLV). The Food Bank did not have a permanent location at the beginning. Initially, distributions were made from the back of a rented truck and then Bethlehem Steel Corporation donated warehouse space that was used for nearly four years. In 1986, thanks to the generosity of the local community, we were able to purchase a 7,600 square foot warehouse at 1138 North Godfrey Street in Allentown. The Food Bank remained there for seven years before moving to a new warehouse more than twice the size of the old one. That building, located at 2045 Harvest Way in Allentown, is where the Food Bank currently operates.
Shortly after moving to the current warehouse location, the Lehigh Valley Food Bank changed its name to the Second Harvest Food Bank of Lehigh Valley and Northeast Pennsylvania.  This change was made as a result of the Food Bank's partnership with Feeding America (formerly known as America's Second Harvest) the nation's largest hunger relief organization.  The new name also better reflected the Food Bank's growing service area which now encompasses Carbon, Lehigh, Monroe, Northampton, Pike, and Wayne counties.
Today, the Second Harvest Food Bank of Lehigh Valley and Northeast Pennsylvania provides food and grocery product to more than 69,000 individuals each month through a network of more than 200 member agencies.  These agencies include emergency pantries, soup kitchens, shelters, and child care, rehabilitation and senior citizen centers.  The Food Bank also provides educational materials to member agencies and the community about local hunger, nutrition, and food accessibility issues and advocates for improvements in and greater accessibility to programs which affect low-income people.