Back to Blog
February 12, 2013
Lehigh Valley Grand Prix in Allentown unveils upgraded fleet of 'super karts' for racing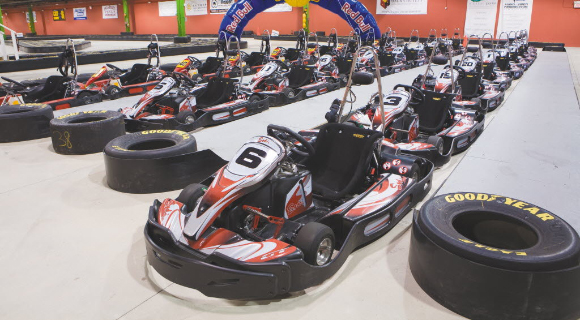 A 9 horsepower engine and top speeds of 50 mph may not seem like the kind of oomph that'll generate buzz among racing enthusiasts. But considering these are the specs of a newly upgraded fleet of go- karts being raced on an indoor track, there's a good chance many enthusiasts are going to be talking about taking a test drive.
At least that's what the owners of Lehigh Valley Grand Prix are hoping. The venue at 649 S. 10th St. in Allentown announced the completion of the upgrades Monday. According to a news release, the "super karts" put Lehigh Valley Grand Prix in the position of offering the fastest indoor karts in the country.
The venue also is now one of just two on the East Coast where customers can drive "super karts" without having to pass pre-qualification standards, the news release says.
Michael McCreary, a partner at Lehigh Valley Grand Prix, said in a statement that safety was a major consideration when deciding whether to go forward, but the partners ultimately determined that the upgrades wouldn't pose any additional safety risks to drivers.
The karts themselves — Sodi gas-powered karts — remain the same; it's the engines that were swapped out. Previously, the engines were 6.5 horsepower, allowing the karts to reach maximum speeds of 45 mph. With the additional horsepower in the new engines, the karts can travel up to 5 mph faster. The new engines also allow drivers to generate more torque coming out of turns, according to the news release. Lehigh Valley Grand Prix says the upgrades were done on its entire fleet of 19 adult karts, marking a significant investment by the owners. Each kart's upgrade cost $10,000 and included changing fuel lines and the installation of new tires.
The upgrades are the second major investment in the venue in less than a year. In May, the owners completed a $200,000 project for the Octane-Adrenaline Bar and Restaurant, which includes 46 seats overlooking the quarter-mile track.
Source: The Express-Times