Back to Blog
May 10, 2012
1st Annual Redneck Party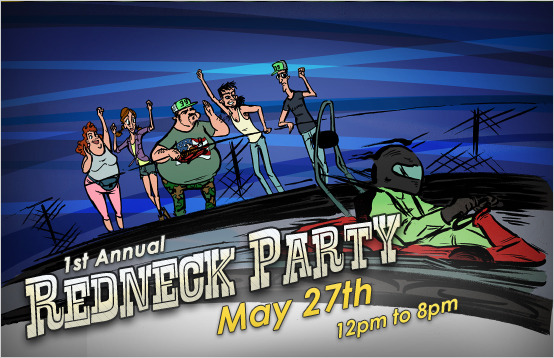 The 1st Annual Redneck Party is being hosted at Lehigh Valley Grand Prix on May 27th from 12pm-8pm.  The tongue in cheek party celebrates racing as the Indy 500, Coca Cola 600 and F1 Race in Monaco all collide on the same day.  The theme party starts off with the viewing of the Indy 500 and F1 race at Octane-adrenaline bar located inside of LVGP.  The day will host 2 feature races; The Redneck Relay sponsored by Army Navy and The Big Wheel Race sponsored by Red Stag.
The track at LVGP will be a Powder track style and there will be race specials all day.  Octane-adrenaline bar will be serving up food and drinks throughout the day.  Remember, you can't drink before racing Go-karts so get those races in early if you plan on drinking!
The Redneck Relay will start at 1pm.  Teams of 4 will participate in the racing/eating contest.  Each participate will race 10 laps then eat 10 wings tagging the next teammate.  The cost to enter is $30 per person.
The Big Wheel Race is the only race at LVGP where participants are allowed to consume alcoholic beverages "responsibly" prior to racing.  Teams of 3 will bring their own big wheel to race around the track.  Cost to enter is $25 per person.
Prizes will be awarded to race winners, best dressed guests and most creative big wheels!  This is a must see event as the racing community and LVGP rally to celebrate the greatest sport on the planet….RACING!!!  BE SURE TO WEAR YOUR BEST REDNECK ATTIRE!!