Back to Blog
November 3, 2015
Fun in the Fast Lane at Lehigh Valley Grand Prix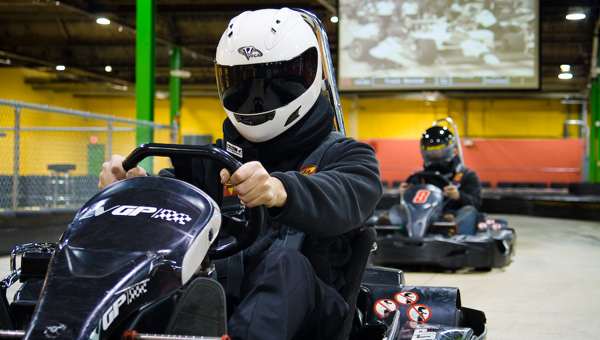 At Lehigh Valley Grand Prix, fun is the center of everything we do. Go-karting is a wonderful way people of all ages can let loose and feel the thrill of racing. We offer a genuine racing experience that gives the driver the true-to-life feeling of competition and a glimpse of what it takes to be one of their favorite NASCAR or Indy racers. All this without the exorbitant cost or incredible risks that come with NASCAR racing!
Go kart racing brings out a sense of competition in everyone.
Whip around the bends of our brand new 13-turn course at speeds of 45 miles per hour for an exhilarating experience unlike any other. Drivers feel real g-forces working against them while they accelerate and fly around the turns at high speeds. Our new course layout boasts a 300-foot straightaway that allows racers to jockey for the lead position and head straight to the top of the leaderboard. Our go karts are a step above the rest because they are all gas-powered which means that there's no need for recharging the batteries between races. Our facility is also well ventilated to ensure you have a pleasant racing atmosphere.
While you visit Lehigh Valley Grand Prix be sure to visit our Octane Bar. The Octane Bar is an on-premise restaurant that will be sure to refuel you before or after the race. Whether you crave pizza, a good burger or some delicious wings, we have all your favorite foods waiting for you. We also have five 42" wide screen televisions throughout the bar that allow racing buffs to catch all of the up-to-the-moment live racing action as well as pre-recorded events that happen in the middle of the night. While we do offer Happy Hour, we do not allow alcoholic beverages to be served before the race. No drinking and driving on our watch. We encourage you to come back after the race and celebrate your victory with your group!
If you were to ask what makes Lehigh Valley Grand Prix so much fun, anyone who has been here will give you a laundry list of their favorite things. There is, however, one answer we get most often. Competition. Whether you're young or just young at heart, you'll be hard pressed to find someone who doesn't want to cross the finish line first.
We offer many exciting packages to groups of 8 or more. Want to celebrate a Birthday here? Perhaps a Corporate Outing, Client Appreciation Day or even a Bachelor's Party? Lehigh Valley Grand Prix is the place for you!
Visit Lehigh Valley Grand Prix; Test your driving skills on our brand new track layout and find out why so many people love go-kart racing!
Social Events

| Race Hours | |
| --- | --- |
| Monday-Thursday | 2pm-10pm |
| Friday | 2pm-9pm |
| Saturday | 12pm-9pm |
| Sunday | 12pm-7pm |

| Octane Hours | |
| --- | --- |
| Monday | 5pm-10pm |
| Tuesday-Wednesday | Closed |
| Thursday | Closed |
| Friday | 4pm to 9pm |
| Saturday | 12pm to 7pm |
| Sunday | 12pm to 7pm |

Axe Throwing Hours
Monday, Tuesday, Wednesday & Thursday
Closed
Friday
4pm to 9pm
Saturday
4pm to 9pm
Sunday
12pm to 7pm
View Our Event Calendar