Back to Blog
February 6, 2014
Kyle Lick & Taylor Handwerk League Champs!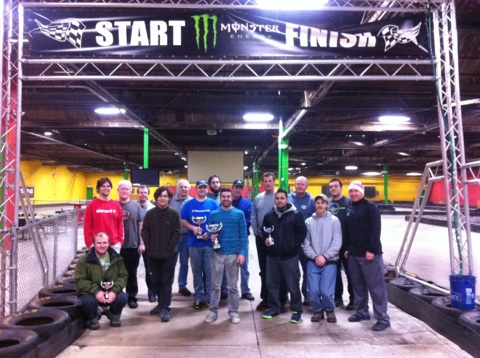 It was another great round of adult leagues at Lehigh Valley Grand Prix.  The facility hosted 2 classes for the latest league with a total of 18 drivers.  The points standings came down to the final race in both classes and it proved to be an exciting final week.  The team at LVGP would like to congratulate Kyle Lick and Taylor Handwerk for winning their classes and all the drivers who participated.
Next League is Scheduled for March 4th.
See below for the final points standings.
Class A:
1.  Kyle Lick 8,395pts.  2.  Jason Frankenfield 8,364 pts.  3.  Dylan Castro 7,169 pts.  4.  Alex Mack 5,815 pts.  5.  Matt Heffelfinger 5,363 pts.  6.  Michael Bombard 5,024 pts.  7.  Ryan Leach 4,765pts.  8.  Dan Bouc 1,265pts
Class B:
1.  Taylor Handwerk 7,166pts.  2.  Darrin Schlegel 6,786pts.  3.  Travis Himes 6,121 pts.  4.  Dale Roller 6,082 pts.  5.  Andrew Welch 6,028pts. 6.  Robert Isbitski 5,770 pts.  7.  Rudy Neher 5,114pts.  8.  Victor Neher 4,627pts.  9.  Jonathan Bersier 4,543pts.  10.  Cullen Delmore 4,278pts.