Back to Blog
April 23, 2011
Easter Egg Hunt!!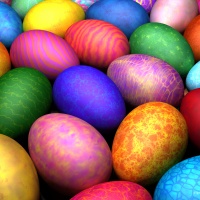 Lehigh Valley Grand Prix held it's first ever Easter Egg Hunt yesterday.  This was not your ordinary egg hunt.  "When you think of Easter Egg Hunts you think of little kids running around a field looking for eggs as Mom/Dad hold their basket.  LVGP's egg hunt was designed for the Big Kids," said Mike McCreary, president of LVGP.
Adults and kids lined up at the starting line of the track in anticipation of the GREEN Light.   When LVGP employee Kyle Lick threw the Green Light the race was on!!  People were running around the track trying to dig through the tires used to make the track barrier in order to collect as many eggs as possible.
The eggs contained prizes as well as candy for the participants.  Over $2,000 in prizes were donated by LVGP and other local companies.  Such prizes as Bowling Passes, Oil Changes, Dinner Coupons and Race Passes were handed out.  The Grand Prize of an 8 person party to the track was won by Eric Lynch.
Overall, the event was a great success and was followed by an all night racing special.  If you missed out on the first ever Egg Hunt don't worry, it will be an Annual Event at the track.