Back to Blog
November 18, 2013
Congrats to ALL the Participants at LVGP's 1st Turkey Bowl!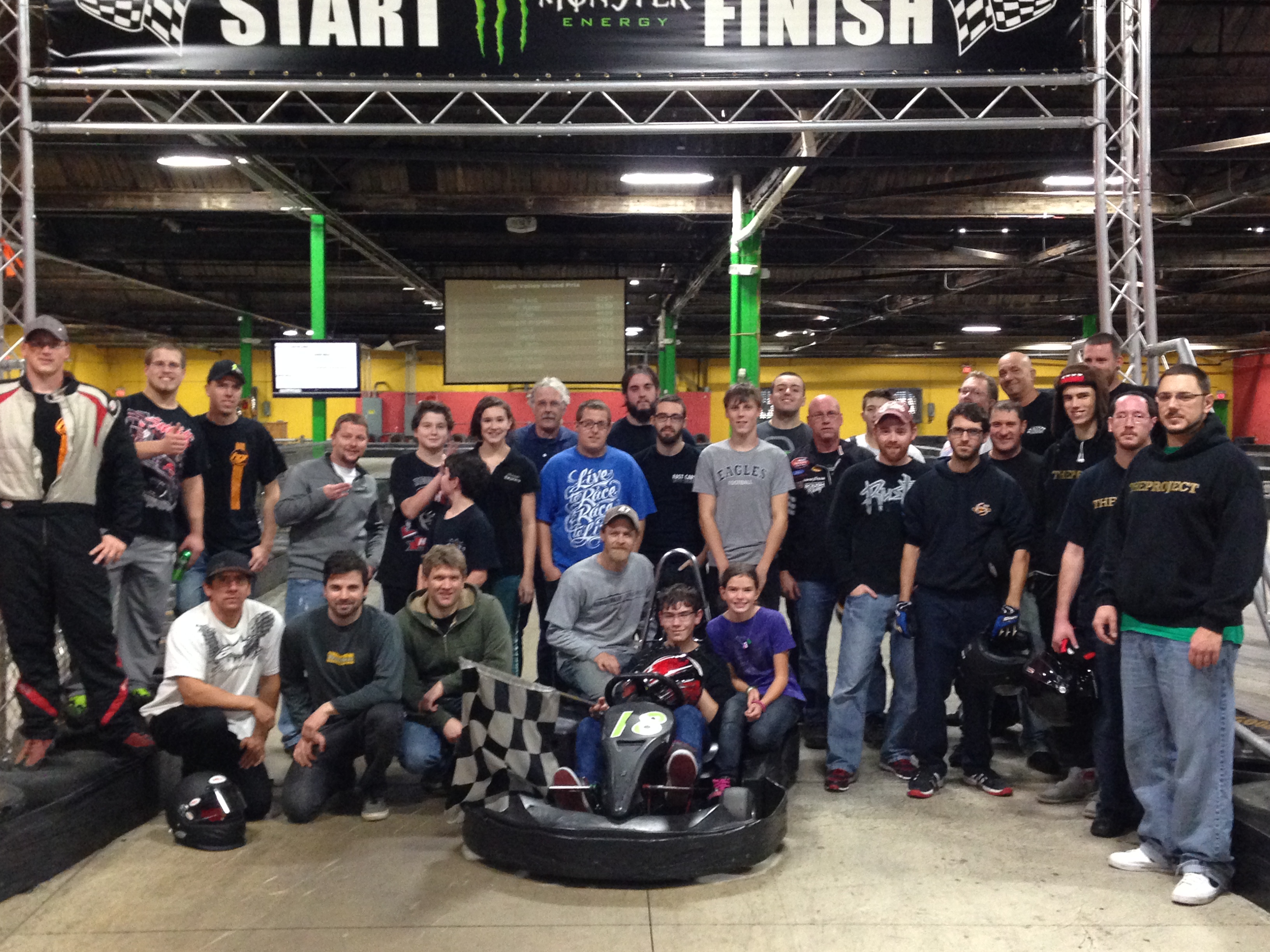 The Turkey Bowl was a combination of high speed, wheel to wheel karting action and an opportunity for the racing community to give back to those who are less fortunate.  Racer's donated canned goods and non-perishable food items for the 2nd Harvest Food back received a discount on their rate to participate.
"It was awesome to see people coming together to give back!"~ Ryan Suchon, Competition Director at LVGP
The race itself was an awesome showcase of some of the best indoor karting drivers in the region.  Both classes had extremely tight races to the finish and the track saw records get shattered.
CONGRATS TO OUR WINNERS!!
PRO: Masters of Disasters- Jason Frankenfield, Joey Brey, Jess Brey
AMATEUR: AJ Racing- Jesse Magruder, Alex Ward
Fast Lap:  Zack Dunn 27.931 WINNER OF THE BIG TURKEY!
Complete Results:
PRO: 1st. Masters of Disaster (Jason Frankenfield, Jess Brey, Joey Brey) 2nd.  Dusty Heathens (Darren Newport, Jason Esterly, Tony Roth), 3rd.  Sliders (Bobby Scherf, Mike Griffith, Skylar Sheriff) 4th.  The Delinquents (Zack Dunn, Jase Smith, Brenna Schuber) 5th.  Highline (Nic Varec, Fred Heinly) 6th.  Freshmen 20 (Alex Mack, Jianni Koburi)
AMATEUR: 1st.  AJ Racing (Jesse Magruder, Alex Ward) 2nd.  HGR (Scott Adams, Rich Dimarco, Rich Emel) 3rd.  Eman On (Frank Neher, Rudy Neher, Joel Hoffmaster) 4th.  STD (Dave Dimaio, Steve Smith, Terry Noll) 5th.  The Project (Peter Bank, Brian Hiberman, Nick Baliotis) 6th.  One (Sunny Chadha, Alex Mekni, Ruchit Patel)
Special Shout Out to Peter Bank from The Project for laying down his best lap of the day after getting sick out of the garage bay!!!